• • • REEF SEEKERS REPAIR DEPARTMENT • • •
Contact our repair guru Robert Stark directly at 310/947-8523
or via e-mail at ReefSeekersRepair@gmail.com
(Ask Robert about our unique concierge "Repair Pickup & Delivery Service")

SAVE 33% ON YOUR REG, OCTO, OR BC REPAIR - CLICK HERE TO FIND OUT HOW
————————————————————————————————————————————————————————————————



————————————————————————————————————————————————————————————————
Want to travel??? Upcoming 2017 vacation trips:

• July 7-19 - Yap Immersion #1 (special 13-day trip featuring all that Yap has to offer) [ LIMITED TO 12 DIVERS - 6 SPOTS LEFT ]
• July 21-August 2 - Yap Immersion #2 (week #2 - same sked as above) [ LIMITED TO 12 DIVERS - 6 SPOTS LEFT ]
• September 1-6 - Great White Sharks of Guadalupe on the Nautilus Belle Amie [ WE'VE ONLY GOT 6 SPOTS - ONLY 1 OFFICIAL SPOT LEFT ] • November 2-12 - Fiji (SW area near Suva) on the Fiji Aggressor [ SOLD OUT!!! ]

GET MORE INFO ON ALL OF OUR VACATION TRIPS HERE: www.reefseekers.com/foreign_trips.html
————————————————————————————————————————————————————————————————
Upcoming local dives & classes:

• DIVE - Sat., 4/29 (DATE CHANGE) - Avalon UW Park ($150)
• CLASS - Wed., 4/26 - Fish ID (7PM in Westwood - $25)
• CHARITY EVENT - Wed., 5/3 - Chamber Day & Eve 2017 2017 (7AM-11PM at Catalina and in Long Beach)
• DIVE - Thu., 5/24 - Night dive at Redondo (6PM - FREE!!) • DIVE - Sat., 6/3 - Avalon UW Park ($150)

To sign up for any of these dives, either call us at 310/652-4990 or e-mail us at kenkurtis@aol.com ————————————————————————————————————————————————————————————————
You'll get a heavy dose of Chamber Day in this one . . .

THE TRADITION OF CHAMBER DAY AND REEF SEEKERS - If you've been dealing with us for a while, you know that Reef Seekers has a long tradition of giving back to the diving community in the form of things that can be considered community service. We've been involved with the Avalon Underwater Cleanup for over 30 years, I (Ken Kurtis) spent about ten years as a member of one of the Marine Life Protection Act committees helping establish MPAs up and down our coast, we helped negotiate a deal to dive the Oil Rigs following 9/11 when they were off-limits, and then there's Chamber Day. We were involved from the very first one as we were asked to supply divemasters for all the boats and it just mushroomed from there to the point that in the early 90s, we became the command center for Chamber Day, using our phone number and staff as the main way to sign up (we've now got an excellent on-line presence at www.chamberday.org where there bulk of the sign-ups take place), and I have officially served as Chairman of the event for about 25 years or so. We've also come to rely on our Reef Seekers customer base for significant support for the event, whether that was in the form of contributions to the Chamber Challenge or signing up for the Flying Dutchman, as well as diving the day event or dining at the evening soiree.

WHAT DID THE CHAMBER COST THIS WEEK? - The Chamber expenses are fairly evenly spread out week to week because of the three full-time paid staff, the constant flow of weekend volunteers (most of whom get their transportation, lodging, and food covered), and things like chamber training runs when there's nothing going on or actual treatments when a diver is in need. So what did the Chamber cost this past week to have available to us? Around $3,500. And that's a cost that we have to hit every single week to keep our Chamber ready 24/7/365 in the event of a diving emergency.

WE'RE RUNNING A BIT BEHIND - Every year, I try to get a sense of what we'll end up doing and this year is no exception. But there are a lot of interesting market forces in play in 2017 that may affect how well we do. We've still got two-and-a-half weeks to go so there's time to pick up the slack because the reality of the event is that about 1/4 of the activity happens in March and 3/4 in April and of that, much of it is in the final two weeks. But we never want to take things for granted nor rest on our laurels. Our Chamber's annual operating budget is around $200,000 and roughly 50% of that needs to come from fund-raising and the bulk of that is from Chamber Day. So our magic number for a while now has been to raise $100,000 with this event, a number that we've reached regularly since 2006 (except for '07 and '14 when we were a shade under $100K). This year, I'm not so sure. But we CAN salvage this.

THE TWO BEST THINGS YOU CAN DO - We know that not everyone can take a Wednesday off from work to participate directly in the daytime portion of the event. That's why we created the Flying Dutchman. It's a FAKE boat (every year I get calls asking for real directions to our fake boat) but allows you to "dive" the event. Best of all, you get a special t-shirt featuring the Dutchman logo and you get to choose a pirate name for yourself which we make into a special image in the form of a skull that becomes the front of the shirt. (Each pirate name usually appears two or three times in the skull.) The Dutchman is only $95 and you also get five daytime raffle tickets plus you'll be entered in the on-board raffle where everyone wins something (granted, small prizes, but everyone's a winner). Here's this year's logo with a sample of what the skull names looks like in case you haven't seen them: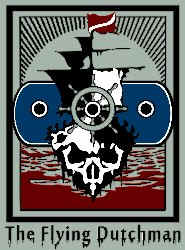 ---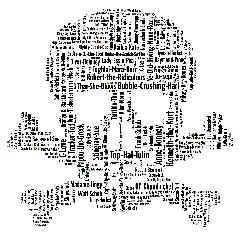 THE CHAMBER CHALLENGE - The best bang for your buck (and ours as well) is the Chamber Challenge. The thought is that you make a contribution and "challenge" other friends to match your generosity. In terms of monies raised, this is actually the most important aspect of Chamber Day because since you don't get a t-shirt or anything else we have to pay for, every dollar in your donation is available 100% to keep our Chamber open and running (as well as 100% tax-deductible for you). Our three basic levels are Bronze ($100-499), Silver ($500-999), and Gold ($1,000-4,999) with Platinum ($5,000-9,999) and Diamond ($10,000 & up) beyond that. Last year we had 1 Diamond, 2 Platinum, 14 Gold, 11 Silver, and a whole bunch of Bronze donors. And while we REALLY appreciate the donors at Silver and above, everything helps. In fact, this newsletter goes out to slightly under 2,000 people each week. If EVERYONE who gets this gave just $100, we could raise enough to cover the expenses for the entire year. I know that's not realistic, but I think you get the point. And my belief is that if you've got the discretionary income that allows you to scuba dive (which isn't exactly a cheap sport), you can probably find $100 to support a safety net that you hope you'll never need but which could save your life (or that of a friend) some day. Consider it cheap insurance.

CAN WE COUNT ON YOU? - So with all of that said, I hope we'll be able to count on you if you haven't already signed up for some aspect of Chamber Day. Simply go to our website (www.chamberday.org), click on the left-side tab that says "SIGN UP/DONATE," start with the first drop-down that asks how you know about the event (this is a required field), march through the menu to choose what you want (t-shirts & posters are available on-line as well), fill out the payment info, hit SUBMIT, click YES when it shows you the tax deductible amount, fill out the payment info, and then hit PROCESS. Your card will be charged immediately, we'll get the money right away, and you'll get an e-mail confirmation that everything is copasetic.

IN CONCLUSION - Please do your part and chip in. Remember that the life you save may literally be your own. As I said above, it's cheap insurance.

DIVE & GET FIVE - Also remember that when you do a weekend dive in April on any of our 10 Chamber Day Fleet boats, at the end of the day they'll hand you five FREE daytime raffle tickets. It doesn't matter whether you're signed up to dive Chamber Day or not. EVERYONE who supports our Chamber Day Fleet boats in April, will get the bonus tickets. You can then mail them in to us, or fill them out (name & phone #) and leave them with the boat, or bring them back on Chamber Day (Wednesday, May 3) and deposit them yourself.

NATIONAL PARKS PASS - I've gotten a number of e-mails in the last week or two about the America the Beautiful Pass that gives you free access to all national parks that charge entrance fees. The regular annual pass is $80. However, if you're over 62, you can get a LIFETIME Senior Pass for just $10. Not a bad deal. A number of the e-mails I've gotten say that they're going to raise the rate soon but on the official website, it says that's not true, at least not in the next few months. However, when you load a Senior Pass into your shopping basket, it comes out as $20, not $10. (I'm going to try to call them this week to see what's what.) But even at $20, it's a good deal, especially when you realize the pass covers you and - if you're in a car - the people driving in with you. So definitely something worth checking out. Here's the link if you want to order one: https://store.usgs.gov/b2c_usgs/b2c/start/(citem=00000000020000000004&xcm=r3standardpitrex_prd&carea=0000000002)/.do .

And that'll do it for now. Have a great week and let's go diving soon!!!

- Ken
—————————————————
Ken Kurtis
Owner & NAUI Instructor #5936
Reef Seekers Dive Co.


s© 2017 Reef Seekers Dive Co. All Rights Reserved.