Alphabetically: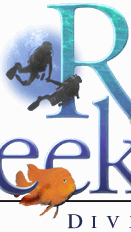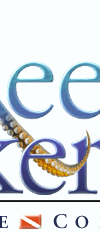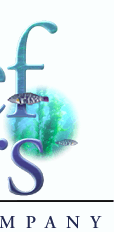 P.O. Box 11634 • Beverly Hills, CA 90213

(310) 652-4990
——————————————————————————————————————————————————————

Follow us on Facebook by clicking this link and then choosing "LIKE": www.facebook.com/reefseekers

——————————————————————————————————————————————————————
Not on our e-mailing list??? Wanna get on it? You'll get the weekly "This Week at Reef Seekers"
and the monthly Reef Seekers 4-page newsletter. Just click this link and put "Add me" in the subject line:
Add me to the e-mail list
——————————————————————————————————————————————————————
THIS WEEK (Aug. 24 - Sept. 1) AT REEF SEEKERS DIVE CO.
(Please scroll down a bit for all the info, text, pictures, & links.)
NEW!!! ---> ISLA MUJERES 2014 TRIP REPORT
ISLA MUJERES 2014 PICTURES, VIDEOS, & SLIDESHOW


2014-15 FOREIGN TRIP SCHEDULE
CLICK HERE TO READ OUR MONTHLY NEWSLETTERS

CLICK HERE TO VISIT OUR PICTURE PAGE CLICK HERE TO READ OUR FOREIGN TRIP REPORTS

DIRECTIONS TO BOATS and VETERANS PARK (REDONDO)
• • • REEF SEEKERS REPAIR DEPARTMENT • • •
Contact our repair guru Robert Stark directly at 310/947-8523
or via e-mail at ReefSeekersRepair@gmail.com
(Ask Robert about our unique concierge "Repair Pickup & Delivery Service")

SAVE 33% ON YOUR REG, OCTO, OR BC REPAIR - CLICK HERE TO FIND OUT HOW
————————————————————————————————————————————————————————————————
Upcoming local dives & classes in 2014 (call us at 310/652-4990 to sign up for any of these activities):

• Wed., August 27 - Veterans Park - Night dive ($20)
• Sat., Sept. 6 - Catalina Express - Avalon UW Park ($150)
• Thu., Sept. 11 - CLASS - NAUI Nitrox (incl. materials - $150)
• Wed., Sept. 17 - Veterans Park - Night dive ($20)
• Sat., Sept. 20 - Veterans Park - Beach dive (single tank - $20)

FULL 2014 SKED (TRIPS & CLASSES): http://www.reefseekers.com/FLYERS/2014%20RSD%20Boat%20&%20local%20sked%20(chronological).pdf

SAVE $10 EACH TRIP AS A MEMBER OF OUR "FREQUENT DIVER" PROGRAM
Need rental gear? Get a 20% discount at Hollywoodivers (near Universal City) or Scuba Haus (Santa Monica).
————————————————————————————————————————————————————————————————
Want to travel??? Upcoming 2014 vacation trips:

• August 16-23 - Return to Isla Mujeres for Whale Sharks (WE'RE THERE NOW!!!)
• November 1-8 - Belize Sun Dancer (11 confirmed - room for 1 more female)
• March 2015 - Yap/Palau combo (or you can do just one, or part of one and all of the other - flexible opportunity)

GET MORE INFO ON ALL OF OUR VACATION TRIPS HERE: www.reefseekers.com/foreign_trips.html
————————————————————————————————————————————————————————————————
Why do I always seem to pick up a cold on the return flight . . .

BACK FROM ISLA MUJERES - We all arrived back safe & sound (even with my cold) from our fabulous Whale Shark Week on Isla Mujeres, which is about 10 miles off of Cancun. I'll get the trip report and pictures sorted out in the next few days. It's really a marvelous trip and one you should put on your list, either to do with us or even on your own. One thing I like about it is that we get a good variety of things to do: Whale Shark dives, cenotes, and reef dives. There's something different every day and we get multiple shots at the Whale Sharks so if we don't have a good day on Monday, there's always Wednesday & Friday. That plan has worked well for us for two years now. This year we had - literally - hundreds of Whale Sharks, some really great reef dives, and even an enjoyable cenote dive. (I'm not a huge fan of cave/cavern diving - I just don't get the allure - so that's a big statement coming from me.) We found a lot of good restaurants (the Grouper Roll at Barlito was to die for - and I'm not a big fish-eater so that's another big statement coming from me), had plenty of time to relax, loved our condos at Nautibeach, got well-taken care of by our friends at Aqua Adventures Eco Dive, and it was just really nice. Here's the official group shot: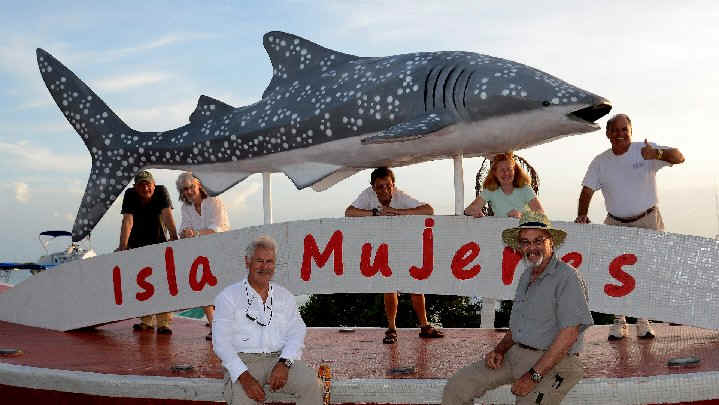 TAKE A PEEK AT THE VIDEOS
- Hopefully you were able to follow some of this through SmugMug and Facebook last week but if you didn't, here's a link to two short videos that I did, one about swimming with a Whale Shark (note it's a single shot -
https://www.youtube.com/watch?v=TrrZMTOrFps
) and the other one will give you a taste of what it was like to dive the Chac Mool cenote (
https://www.youtube.com/watch?v=14CoWhqYYII
). Also, if you want to see some of the daily Top 10 Pix galleries we posted, they can be found here:
http://kenkurtis.smugmug.com/
.
CREATIVE USES OF DUCT TAPE
- We did have one injury on the trip which occurred on Monday as we were heading out to the Whale Shark area. Ron Roth (white shirt and cane in the pix above) stood up as the boat went down in a trough and likely sprained his ankle. Fortunately, he had his booties on which acted like a compression wrap and helped keep the swelling down somewhat. And he was able to do the Whale Shark snorkel, albeit gingerly. But once we took that bootie off, his ankle swelled up pretty good. Now I'll throw in the caveat that Ron's a medical doctor so he checked for fractures and breaks and found none, put on some ice and elevated, as well as took a day off. But he wanted to try to the second Whale Shark day and while we'd already gotten him an Ace bandage to wrap the thing, I suggested that maybe adding duct tape would give him more support and stability, as well as keep the swelling down with compression. So that's what we did as you can see: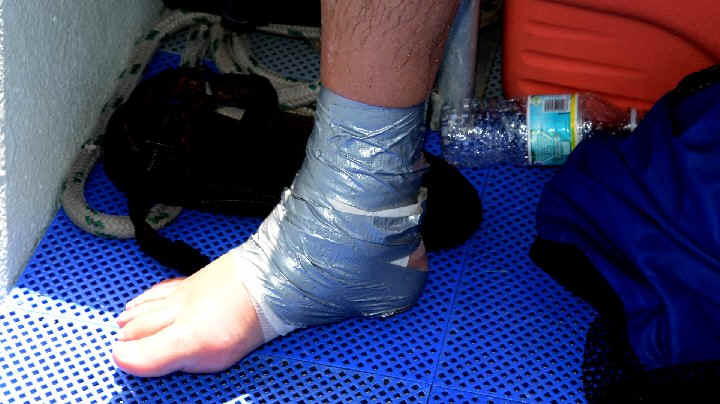 He dove with only one fin on Wednesday but discovered that the adhesive from the duct tape infused with the bandage, so he had to cut the entire thing off to free himself Wednesday night. When Thursday rolled around, I suggested maybe he could use a sock and tape and so that's what we did for the next two days. It also enabled him to wear a fin on that foot since the tape and sock acted like a bootie and prevented him from chaffing his skin: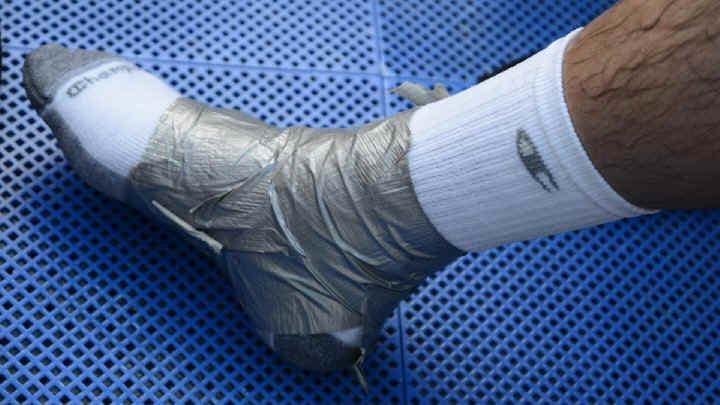 Where there's a will, there's a way and Ron actually felt that mild kicking in the water, as long as he avoided lateral movement, was actually very therapeutic as it stretched the muscles and hopefully speeded healing. He certainly improved remarkably in terms of being able to hobble/walk between Monday night and Saturday afternoon when we left. But it just goes to show that you never know what you might need on a trip or what everyday item might be called into special service.
HOW ABOUT A NIGHT DIVE WEDNESDAY?
- I'm actually looking just now at the predicted surf and it might be dicey. But we'll keep it on the sked anyhow and see what's what. If you're interested be sure to let me know and, as with all of our Redondo night dives, we'll make a weather call by 3PM that afternoon.
HARD TO BELIEVE LABOR DAY WEEKEND IS NEXT WEEKEND
- Where did the summer go? (Well, this year Labor Day's the earliest is can possibly be.) But it also serves to remind you that Labor Day doesn't really mark the end of the diving season, but the beginning of the Outstanding Visibility season. Traditionally, we tend to get some of our best viz (and warmest water) starting in September and going through October & November and even into December. (The latter will be true if the El Nino predictions for this year are true.) So don't think of the coming weekend as the end of something but the start of something else really good.
YAP & PALAU
- Now that I'm back fro a while (our next adventure is November 1-8 in Belize) I'm going to start working on the 2015 trips and specifically on Yap & Palau. If you've contacted me about this, you'll get an e-mail or a phone call to see what your thoughts are. If you're interested and we haven't chatted about this yet, let me know. This trip can be done as a combo Yap/Palau, as Yap-only, or as Palau-only. In Yap, we'll be diving with our friends at Manta Ray Bay and, because we're land-based, group size is not much of an issue. But in Palau, I'm going to try to set us up on the Palau Aggressor II so space availability becomes a bit more critical as there will definitely be a point where we have to cut it off. I'm looking at either March 7-14 in Yap and March 14-21 in Palau, or March 21-28 in Yap and March 29-April 5 in Palau. I haven't started working on pricing yet but based on past experiences, you can figure roughly $2700 for Yap, $3500 for Palau, and $2000 for airfare. Doing both does not significantly alter the airfare (and a couple of years actually reduced it by a hundred bucks) and a lot of people figure if they're spending that kind of money on airfare, two weeks is a better investment. It's certainly not a cheap trip but it'll definitely be one that's memorable.
And that'll do it for now. Have a great week and let's go diving soon!!!
- Ken
—————————————————
Ken Kurtis
Owner, Reef Seekers Dive Co.


s© 2014 Reef Seekers Dive Co. All Rights Reserved.