GET MORE INFO ON ALL OF OUR VACATION TRIPS HERE
:
www.reefseekers.com/foreign_trips.html
————————————————————————————————————————————————————————————————
Upcoming local dives & classes:

• Sat., Sept. 23 - Catalina Express - Avalon Underwater Park ($150)
• Thu., Sept. 28 - Westwood - CLASS - Fish ID ($25)
• Sat., Sept. 30 - EVERYWHERE - Lobster season open at 6AM [ NOTE NEW STARTING TIME ]
• Sat., Oct. 7 - Beach diving & Navigation - Vets Park in Redondo ($25)
• Thu., Oct. 12 - Night dive - Vets Park in Redondo (FREE!!!)
• Wed., Oct. 18 - Photo Workshop - Westwood ($25)
• Sat., Oct. 28 - Catalina Express - Avalon Underwater Park ($150)

To sign up for any of these dives, either call us at 310/652-4990 or e-mail us at kenkurtis@aol.com
————————————————————————————————————————————————————————————————
And the BSBs just keep on coming . . .

REPORT FROM THE U/W PARK
- Saw some postings today that they not only had some drizzle (!!!) Sunday in Avalon but that they also spotted four Black Sea Bass just sort of chillin' in the Park. (I still can't bring myself to call them "Giant Sea Bass." Old habits die hard.) They've been spotted throughout the summer and that's a good sign for a lot of reasons. Number one is that it shows conservation measures really do work. We almost hunted the BSBs to the point of extinction and in 1982, the state of California gave them fully protected status. Given that they live to be 60-70 years old, it was assumed that it would take a while for the effects of this ban to be noticed. Well, it's been 35 years now and we started noticing a comeback of the species maybe 15 years or so ago, definitely around areas like Italian Gardens in Catalina. And for the last couple of years, we've started noticing them in the Avalon Underwater Park on a regular basis as well. So it's hopefully a good sign of a recovering and getting-healthier species and ecosystem. One thing to remember about BSB sightings is that they're somewhat seasonal, as the fish tend to disappear (not sure where they go) in early January and then may not reappear until May or June. So go see them while you can. (More on that below.)
GOOD VIS REPORTED
- We're also hearing good visibility reports. Captain Ray Arntz says it was 50-60 feet out on the oil rigs (Eureka & Ellen/Elly) last week and Phil Garner (aka Max Bottomtime) said it was pretty good - 20-30 feet - along the Palos Verdes coastline as well as good-vis reports coming out of Laguna Beach. On top of that, the water's staying (relatively) warm. We have long said that fall is a great time to go diving and these are just some of the reasons that that's true.
SPEND THIS COMING SATURDAY WITH US IN AVALON
- We're going over to dive the Avalon Underwater Park this coming Saturday. The tentative plan is to leave out of the San Pedro Catalina Express terminal on the 8AM boat, we'll get in two dives, take a break for lunch, and then get in a third dive. (I don't think we'll have time for a round of mini-golf but if we can squeeze it in, we will.) You don't need to bring tanks because we get them there at the Park. And part of the goal is to go find and spend some quality time with the Black Sea Bass we talked about above, although there are plenty of other critters to see as well. Sometimes this time of the year we can actually find Arrow Crabs and Guadalupe Cardinalfish (usually warmer-water critters) in the Park, and we will certainly keep our eye out for another White-Tailed Gregory like the one we spotted a few years ago. Cost for everything is $150 which covers you for the Express, taxi to and from the Park, tanks and airfills, and mucho fun. (On your own dime for parking and food.) We've already got five people going so this is a confirmed trip if you'd like to join us. Just shoot us an e-mail or give us a call to 310/652-4990.

WATCH OUT FOR MARIA
- She's the next hurricane name you're likely to become familiar with as she's gathering strength and taking aim at Florida. Sadly, she's also going to initially hit many of the same Caribbean Leeward Islands that got smacked by Irma. As of Sunday evening, it looks like Martinique may be the first area of landfall, sometime late on Monday. The projected track right now is a little south of where Irma went but Puerto Rico and the Bahamas could get direct hits from mid-week and on into the weekend. Though not projected to be as big as Irma (which hit Category 5), this is still projected to be a Category 3 hurricane which qualifies Maria as a "major." And the reality is that while Irma hit with harder winds, the islands hadn't yet sustained any damage. Maria will hit islands that are reeling from Irma and even though the winds may be less, the damage may be more since many of the areas have already been hard-hit and laid bare and are, like a punch-drunk boxer, essentially defenseless. Here's the National Hurricane Center projected track as of Sunday evening: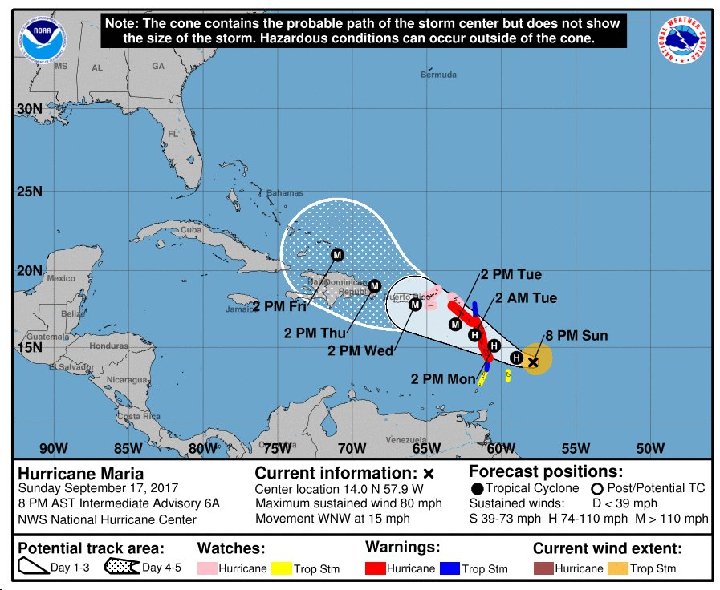 LOBSTER REMINDER
- Especially for those of you who go out on your own boats or who go from shore, you're likely aware that the season opens on Saturday, September 30, but please remember that the rules changed this year and the opening time is not 12:01AM (effectively Friday at Midnight) as you've been used to for so many years, but is now 6:00AM on Saturday. I'm certain that DF&W wardens will be out looking for people who either aren't aware of this or who don't follow the new opening time. Especially in the case if you have your own boat, remember that they've got fairly broad discretionary enforcement powers that include things like not only seizing the game (evidence) you've taken but they can also seize your gear and even your boat (or car) if circumstances seem to compel that. So make sure you play by the rules.
GREAT WHITE TRIP REPORT AND PIX
- In case you didn't see the note I sent out earlier in the week, the trip report and pix for our Guadalupe Great White Shark adventure are now all posted on-line. You can see the trip report here (
http://www.reefseekers.com/PIXPAGES/Guadalupe%202017/Guadalupe%202017%20trip%20report.html
), a dozen pix here (
http://www.reefseekers.com/PIXPAGES/Guadalupe%202017/Guadalupe%202017%20pix%20and%20SmugMug%20links.htm
), and the full 109-image SmugMug slide show here (
https://kenkurtis.smugmug.com/DIVE-TRIP-PHOTOS-ALL/2017-Dive-Trips-all/ISLA-GUADALUPE-2017-diving-with-Great-Whites/
).
2018 TRIPS
- I'm now starting to piece together the calendar for 2018 (I literally printed out my master form today and started blocking things off) and am happy to take input from you if you've got some wishes. Right now what I'm hoping to put together is a 10-day Cocos trip for sometime in November, a week on Isla Mujeres (Whale Sharks) in August, I'd like to get back to our friends at Murex in Indonesia sometime in July (9 dive days and Singapore on the back end), would be interested in doing Yap again (I liked our 10-day trip this year) either in March or maybe June, as well as Bonaire in either March or June, and that would still leave us with some open slots for things like Roatan or Belize or someplace new. I'm going to start shuffling pieces around and will also be in touch with those of you who have already contacted me about preferred dates. But if you haven't yet made your voice heard, please let me know what might be of interest to you.
And that'll do it for now. Have a great week and let's go diving soon (like maybe this coming Saturday)!!!
- Ken
——————————————————
Ken Kurtis
Owner & NAUI Instructor #5936
Reef Seekers Dive Co.


s© 2017 Reef Seekers Dive Co. All Rights Reserved.