• • • REEF SEEKERS REPAIR DEPARTMENT • • •
Contact our repair guru Robert Stark directly at 310/947-8523
or via e-mail at ReefSeekersRepair@gmail.com
(Ask Robert about our unique concierge "Repair Pickup & Delivery Service")

SAVE 33% ON YOUR REG, OCTO, OR BC REPAIR - CLICK HERE TO FIND OUT HOW
————————————————————————————————————————————————————————————————
Want to travel??? Upcoming 2015 vacation trips:

• March 6-22, 2015 - Yap & Palau (WE'RE BACK!!!!)
• June 20-27 - Bonaire at Buddy Dive
• July 11-22 - Indonesia (includes Bunaken, Lembeh Straits, & Bangka)
• July 31-August 5 - Great White Sharks at Guadalupe Island aboard the Belle Amie (I NOW HAVE AN EXTRA SPOT AVAILABLE ON THIS ONE)
• August 15-22 - Isla Mujeres and the Whales Sharks (plus cenotes and MUSA)
• October 21-26 - Great White Sharks at Guadalupe Island aboard the Nautilus Explorer (now three spots available on this trip)
• December 1-13 - Red Sea Aggressor (southern route - includes dolphins) plus 2 days in Cairo

GET MORE INFO ON ALL OF OUR VACATION TRIPS HERE: www.reefseekers.com/foreign_trips.html
————————————————————————————————————————————————————————————————
Amazing how when you're gone for two weeks it takes another two weeks to get back intro the swing of things . . .

I LIKE TOAST BUT . . . - . . . not when it's my camera and lens. That's the official word for Nikon on both my D750 and 28-105mm macro lens. The phrase they use is the more tactful "Beyond repair due to water damage". C'est la vie. Hopefully, some of the credit card coverage will kick in for some, and perhaps all, of the camera replacement cost, and a different card should cover the work needed on the housing (which is relatively minimal). But it all just goes to show how one little mistake can cause some really big headaches.
YAP & PALAU TRIP REPORT & PIX - The good news is that I've got them done but the bad news (at least for me) is that I'm having EarthLink server issues when I try to upload everything to our Reef Seekers website. So I've have to chat with them in the morning and hopefully get that resolved. In the meantime, we can do this the old-fashioned way which is a link at a time. No trip report because is 7,000 words and only can live on the website. I'll get that to you eventually. Here's the stuff you really want:
HOW ABOUT SOME PYRAMIDS & SOME DIVING? - We're looking into a Red Sea trip aboard the Red Sea Aggressor for December 1-13. One big reason for this is that we can offer you a $500 discount off of the boat where a standard deluxe stateroom normally goes for $1899. This drops it $1399 and that's a simply unbeatable price. It also looks like we've got a good airfare (around $1100) through Frankfurt into Cairo, two full days of touring the pyramids in Cairo while staying at a hotel that overlooks them (still waiting on firm pricing for that), and then transferring by plane and bus down to the boat for the week-long dive trip. This will be along what they call the southern route which sort of hugs the Egyptian coastline and gives the advantage of being a bit calmer and - for me this is a HUGE selling point - a dive in a cove with resident Spinner Dolphins who are quite human-friendly. Pyramids and dolphins. What a combo!!!! (Some of you may need to discuss this and get permission from your Mummy.) Even with the Cairo portion and the tip added in, this should come in around $4000 or maybe even a little less. If you've got any interest in this, let me know because we have to nail this down fairly quickly. I'll probably cap the group at 10, but could go higher if there's enough interest (the boat holds 18 and is wide open at the moment).
MACK THE KNIFE - "Oh the shark bites, with his teeth dear . . ." That's the opening line and it's what I think of every time I think about our two Great White Shark trips to Guadalupe Island this year. (Amazingly, the theme from "Jaws" doesn't pop into my head too much.) If you'd like, you can sing this song with me on our October 21-26 trip, because three people who said they were going have had to back out so I've got some space. No matter when you go, it's an adrenaline-pumping experience. We'll be on the Nautilus Explorer in October and that's when we should get some of the large, pregnant females coming in. Nautilus has four cages they'll be deploying (plus I've heard rumors of adding a fifth) and there's plenty of cage time for everyone on the trip. Plus, and this rather appeals to my adventurous side, they'll let you stand OUTSIDE the cages on TOP if you so desire (which I personally will so desire). So it's a pretty cool trip with three full days of shark diving and lots of good memories to bring back. Give me a call at 310/652-4990 if this sounds like your cup of tea . . . or cup of teeth.
CONGRATS TO CINDY & PAT - I normally don't go to the Aquarium of the Pacific on Sundays but was delighted to be there this evening for the wedding of Pat Smith and Cindy Shaw. I've known Pat for more years than probably either one of us cares to remember but today was a special day for Cindy and him as they descended into the Blue Cavern exhibit around 6:25PM and, in front of 300+ friends who were watching from the outside, got married. The judge who performed the ceremony was outside with a mic and we had rigged up two comm lines so they both could hear her and each other so while two safety divers (Best Buddy and Buddy of Honor????) kept them company inside. The back-and-forth between the judge and them sealed the deal, much to the delight of the assembled multitude. So congrats to the happy couple who will be at Catalina on Monday celebrating their wedded bliss by, what else, diving.

DEDICATION - Speaking of the Aquarium, as many of you know, I've a dive volunteer and Team Leader there and one of our jobs is to clean the rockwork and repli-coral in our big Tropical Reef exhibit, which is modeled after Blue Corner in Palau. Well, since I was at the ACTUAL Blue Corner last week (along with fellow Team Leader Lionel Galway), Lionel and I felt it was only proper for us to take a brush down with us on the dive and clean some of the real rocks at the real Blue Corner. And for those who might doubt our dedication, here's a picture of each of us at work. And before anyone screams "Why were you scrubbing live coral" rest assured that we were not, but working over bare rock: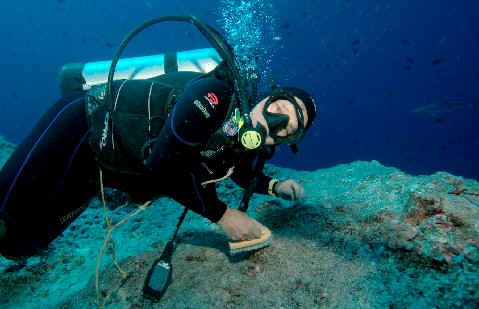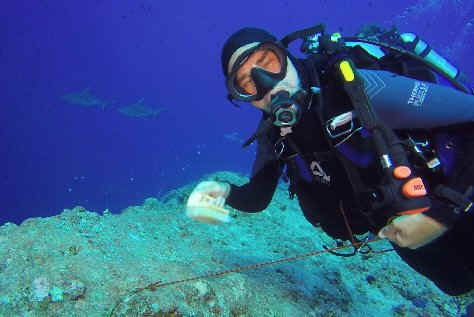 CHAMBER DAY & EVE
- Now that I'm pretty much caught up, expect some pleading from me to support Chamber Day & Eve 2015 (May 6). We've got the
Cee Ray
for the Day, a table for the Eve, and are always happy to see your names pop up on the
Flying Dutchman
or on the Chamber Challenge list. You can sign up through the website at
www.chamberday.org
or by calling us directly at 310/652-4990.
QUOTING SHAKESPEARE
- "Beware the Ides of March." Also beware 17 days after the Ides of March aka March 32nd. You've been warned . . .
And that'll do it for now. Have a great week and let's go diving soon!!!
- Ken
—————————————————
Ken Kurtis
Owner, Reef Seekers Dive Co.


s© 2015 Reef Seekers Dive Co. All Rights Reserved.