• • • REEF SEEKERS REPAIR DEPARTMENT • • •
Contact our repair guru Robert Stark directly at 310/947-8523
or via e-mail at ReefSeekersRepair@gmail.com
(Ask Robert about our unique concierge "Repair Pickup & Delivery Service")

SAVE 33% ON YOUR REG, OCTO, OR BC REPAIR - CLICK HERE TO FIND OUT HOW
————————————————————————————————————————————————————————————————
Upcoming local dives (call 310/652-4990 for more info and to register):

• Sunday, October 4 (PLEASE NOTE DATE CHANGE) - Avalon Underwater Park
• Wednesday, October 7 - Vets Park night dive
• Saturday, October 17 - Vets Park daytime dive
————————————————————————————————————————————————————————————————
Want to travel??? Upcoming 2015 vacation trips:

• October 21-26 - Great White Sharks at Guadalupe Island trip #2 aboard the Nautilus Explorer [SOLD OUT]
• December 1-13 - Red Sea Aggressor (southern route - includes snorkeling with dolphins) plus 2 days in Cairo [SOLD OUT]
• Working on 2016 dates and destinations

GET MORE INFO ON ALL OF OUR VACATION TRIPS HERE: www.reefseekers.com/foreign_trips.html
———————————————————————————————————————————————————————————————— Gorgeous weekend . . .

WONDERFUL DIVING SATURDAY AT VETS PARK - I was out at Vets Park (Redondo) Saturday doing some beach entry training with a couple of new divers and it was fabulous. Minimal surf and really good viz, especially for Vets, running 30-40 feet. The water temps are still waaaay up there with 75º in the shallows and 63º down in the canyon at about 70 feet. But the good viz held down there too and although there were no unusual sightings, my two newbies seemed to really enjoy it especially because this was their first California dive, since they had done all of their training down in Playa del Carmen, Mexico. We saw Sea Pens, Kellet's Whelks, numerous really tiny juvy Sheephead, Sarcastic Fringeheads, Brown Sea Hares, and a few Black Sea Hares, and a Turbot. And much as we enjoyed our dive, we didn't have nearly as memorable an encounter as Helen Johnson did.

IS THAT A WHALE COMING OUR WAY??? - Helen and her dive buddy Cathy Crosswhite Craig made a dive at Vets last week that started out uneventful but ended with a bang as what appears to be a young Gray Whale spent the last 14 minutes of the dive with them in water as shallow as 10 feet. According to Helen, the whale was very graceful and calm and just kept moving to and fro. My guess is that it was feeding because on our dive Saturday, I noticed little clouds of what appeared to be stirred-up sand but which were really small clouds of krill, and that's what whales eat. Helen even has video and some stills of parts of the encounter. You can get a 36-second glimpse of it with one of the video clips which I've linked (with Helen's assent) to our Reef Seekers Facebook page. It should be near top (right under TWARS) and when you click on it, it'll start to play. You'll get a good close-up look at the whale: https://www.facebook.com/reefseekers .

ALWAYS LOOK AROUND - The fabulous experience that Helen and Cathy had is testament to why you should always be looking around when you're diving. When we did our dive Saturday, because I already knew of their whale encounter, you betcha that I was constantly scanning the surroundings hoping the whale would come back. You just never know. I've always referred to diving as the World's Greatest Scavenger Hunt and Helen's and Cathy's whale encounter certainly is testament to that.

WE CAN STILL DO SPECIAL PRIVATE CLASSES - Although we no longer offer regular basic open-water classes, we're happy to arrange for private beyond-open-water-classes. In fact, that's what the Saturday Vets dive was. I was asked if I could do a special private beach class and the answer was yes. The nice thing about this type of training is that it's tailored to your interests, needs, and schedule. For most of these, there's no certification card involved because - like with the beach training - they involve really going into a specific skill or task. Navigation and photo are two examples that immediately come to mind. But we can also make arrangements for special classes doing Advanced, Rescue, and others. So if there's something you'd like to get exposed to or brush up on, give us a call and we'll see what we can work out.
NEW LOOK FOR SMUGMUG
- As many of you know, I'm been a fan of and member of SmugMug for a number of years now. They've recently gone through a formatting change and they're now at the point where they're converting all the old-format sites to the new-format whether you like it or not. So I went in and reworked mine over the last few days. Hopefully the "new" look makes things easier to find and view. Also, all of the links (like you'd find on our website) to trip photos and the like from the past should take you to the correct page on the revised site as well. I've made some formatting changes in that I've grouped things together thematically so that there's a folder for "All dive trips" and then inside of that the trips are grouped by year. On the old SmugMug, each collection of photos stood on their own and nothing was grouped together, so hopefully this makes things easier to find if you're looking for locations. But take a look and let me know what you think. I'm always looking for ways to tweak and improve things:
http://www.kenkurtis.smugmug.com/
.
MALDIVES IN 2016?? - As I noted above, I'm working on the 2016 trip schedule and am looking at a visit back to the Maldives towards the end of the year, perhaps November or even December. Although there are many boats from which to choose, my preference would be to again go on the Manthiri, who we've used on two trips before. Not only are they really good guys (and I've stayed in touch with their DM Moosa Hasan over the years) but their boat also only takes 12 divers, whereas most of the other liveaboard boats in the area are taking 20-25 divers. I'm also thinking, given the distance traveled (literally halfway around the world), that this makes the most sense to do this as a 9-day dive trip rather than 7. I haven't really started noodling with pricing yet but it would seem that the boat (with crew tip) will come in around $4500-ish. There are a couple of airfare routes that can be flown which would include Emirates through Dubai (two flights - $1650), Singapore Air through Singapore (routing we're used to - $1321), Turkish Airlines through Istanbul (cheapest - $1142), and Cathay Pacific through Hong Kong (shortest and most expensive - $1862). So no matter how you cut it, this will come in around $5500-$6,000. But it's a great place to go and I'd love to be able to pull this together so the first question is . . . who's interested? Shoot me a note and let me know if that's you.
LOBSTER SEASON OPENS NEXT WEEKEND - Lobster seasons starts Saturday morning October 3 at 12:01AM. This is always a time of heightened awareness for us in the professional end of the diving community because it seems there are always those who are more intent on getting a lobster than surviving the dive to do so. Last year, you may recall that in the general Southern California area, there were FIVE fatalities in the first week. If you're going out on the week or weekend, pay attention to what you're doing, especially to your air supply. Please don't become a statistic. And speaking of fatalities . . .
NO BLOOD MOON DUE TO THE BLOODY CLOUDS - I can just barely make out a faint red blob through the cloud layer so no Blood Moon from Westwood tonight. I did, however, manage to find a nice picture of a Bloody Mary: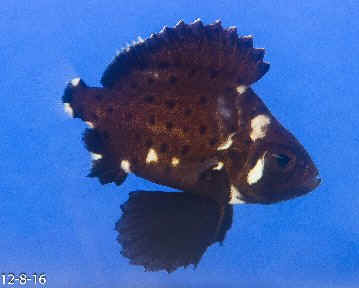 And that'll do it for now. Have a great week and let's go diving soon!!!

- Ken