• • • REEF SEEKERS REPAIR DEPARTMENT • • •
Contact our repair guru Robert Stark directly at 310/947-8523
or via e-mail at ReefSeekersRepair@gmail.com
(Ask Robert about our unique concierge "Repair Pickup & Delivery Service")

SAVE 33% ON YOUR REG, OCTO, OR BC REPAIR - CLICK HERE TO FIND OUT HOW
————————————————————————————————————————————————————————————————
Want to travel??? Upcoming 2015 vacation trips:

• July 11-22 - Indonesia (includes Bunaken, Lembeh Straits, & Bangka)
• July 31-August 5 - Great White Sharks at Guadalupe Island aboard the Belle Amie (I NOW HAVE AN EXTRA SPOT AVAILABLE ON THIS ONE)
• August 15-22 - Isla Mujeres and the Whales Sharks (plus cenotes and MUSA)
• October 21-26 - Great White Sharks at Guadalupe Island aboard the Nautilus Explorer (now three spots available on this trip)
• December 1-13 - Red Sea Aggressor (southern route - includes possibility of snorkeling with dolphins) plus 2 days in Cairo [SOLD OUT]

GET MORE INFO ON ALL OF OUR VACATION TRIPS HERE: www.reefseekers.com/foreign_trips.html
————————————————————————————————————————————————————————————————
Greetings from the East Coast . . .

HAVE A MAGICAL DAY - That's the catch phrase here. I've been in Orlando for the past week at Disney World for a family birthday celebration. The entire NYC clan is down here along with my dad (Dover, DE) and sister (also L.A.) to celebrate my Aunt Jane's 80th b-day, which was Saturday. The cool thing about it was that we had the b-day dinner at the Coral Reef Restaurant, which looks into The Living Seas exhibit. So we got a visit from Scuba Mickey as well as could see the divers who signed up to do the special Living Seas public dive. (We offer a similar experience at the Aquarium of the Pacific.) But it was a really nice venue, the food was wonderful, it was a blast seeing everyone and interacting with all the Disney characters, and a good time was had by all, as you can see: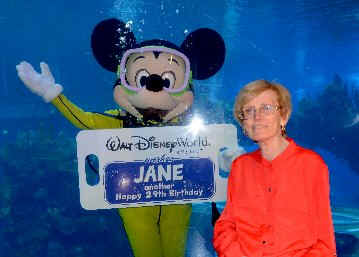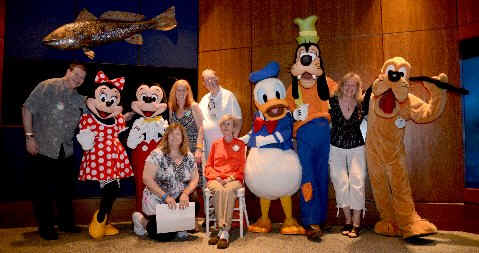 BRUCE ON THE EAST COAST
- There's a lot of hubbub going on due to the presence of a Great White Shark cruising the East Coast. The shark, and others, is being tracked by OCEARCH but someone created a fake Twitter account for it and it's taken off. There's some hysteria ala
Jaws
but by and large, it seems the public is taking this all in stride. And besides folks, it's THEIR water.
We're
the intruders. Here's ABC News' take on it:
http://abcnews.go.com/Technology/wireStory/great-white-shark-cruising-east-coast-twitter-star-31105300
.
CHAMBER DAY SHIRTS SHOULD MAIL THIS WEEK - For those wondering, I am told that if you ordered a shirt on-line, it should go out in the mail (from the island) sometime during the week so hopefully you'll get it by the end of the week.
GREAT WHITE SHARK TRIP END OF JULY - Speaking of Chamber Day and Great White Sharks, now that Ch-Day is behind us, I can concentrate on our first Great White Shark trip to Guadalupe Island July 31 - August 5. It's aboard the brand-new Belle Amie which just completed what looked like a fabulous inaugural trip down to Soccorro. I just checked the availability and they must have had some cancellations because there are a number of spots available. We've already got 7 going plus they've got about 10 more but the point is that if this is something you're interested in, we can add you to our group it seems. How often do you get a chance to come face-to-face with a top predator AND do it on a brand-new luxurious liveaboard dive boat? It's really going to be a blast and because the boat leaves from Ensenada, we don't need to worry about airfare. (At least, not for those of you living in the SoCal area.) If you're interested in discussing this further, give me call after Monday (I don't get home until late evening) and we'll chat about it. For those already signed up for this trip, I'll be in touch with you about your next scheduled payment.
SCUBA SHOW REMINDER
- Ticket sales have started for this show, June 6-7 at the LB Convention Center. Find out more at
www.scubashow.com
.
BEACH DIVE ANYONE? - As the summer diving season approaches, we'll get back into our scheduled Redondo Vets Park beach dives, both day and night. I've been rather remiss about scheduling them so far this year but hope/promise to do better. We'll again do some combination of daytime and nighttime dives.
And that's going to do it for now. Too late an evening in Orlando with the family and I've got an early flight out in the morning (with a lovely 2-hour layover in Dallas to boot). Have a great week and let's go diving soon!!!
- Ken
—————————————————
Ken Kurtis
Owner, Reef Seekers Dive Co.


s© 2015 Reef Seekers Dive Co. All Rights Reserved.