• • • REEF SEEKERS REPAIR DEPARTMENT • • •
Contact our repair guru Robert Stark directly at 310/947-8523
or via e-mail at ReefSeekersRepair@gmail.com
(Ask Robert about our unique concierge "Repair Pickup & Delivery Service")
>>>> PLEASE NOTE ROBERT WILL BE ON VACATION
THROUGH THIS WEDNESDAY <<<<

SAVE 33% ON YOUR REG, OCTO, OR BC REPAIR - CLICK HERE TO FIND OUT HOW
————————————————————————————————————————————————————————————————
Want to travel??? Upcoming 2016-2017 vacation trips:

• August 1-6 - Isla Guadalupe & Great White Sharks [ SOLD OUT!!! ]
• August 13-20 (WEEK 1) - Isla Mujeres & Whale Sharks, cenotes, and statues [ SOLD OUT!!! ]
• August 20-27 (WEEK 2) - Isla Mujeres & Whale Sharks, cenotes, and statues [ SOLD OUT!!! ]
• November 3-16 - Maldives on the Manthiri [ ONLY 5 SPOTS STILL AVAILABLE ]
• 2017 - July 7-19 - Yap Immersion #1 (special 13-day trip featuring all that Yap has to offer) [ LIMITED TO 12 DIVERS - 9 SPOTS LEFT ]
• 2017 - July 21-August 2 - Yap Immersion #2 (special 13-day trip featuring all that Yap has to offer) [ LIMITED TO 12 DIVERS - 8 SPOTS LEFT ]

GET MORE INFO ON ALL OF OUR VACATION TRIPS HERE: www.reefseekers.com/foreign_trips.html
————————————————————————————————————————————————————————————————
Hope you had a happy Father's Day . . .

FROM DOVER, DELAWARE - My sister & I spent the extended weekend with my dad in Dover, Delaware, plus we did a quick side trip up to see relatives in New York. Here's the official Father's Day family pix: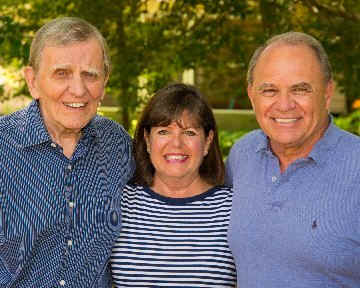 HOW ABOUT THAT HEAT WAVE??? - It's been warm here on the East Coast, but nothing like what we escaped by leaving L.A. for the weekend. Yikes!!! One thing to remember in heat like this, whether you're diving or not, is to make sure you're staying well-hydrated. Dehydration can be a serious problem and may start manifesting itself with something as simple as feeling a bit tired or unfocused. One of the best ways to check hydration is to watch the color of your urine (something we advise people of on every trip we take). Clear is good but as it gets yellower and darker, these are signs that you need to increase fluid intake. One rule of thumb is that if you wait until you feel parched and really thirsty, you're waiting too long. So make sure you keep up on your water consumption.

NATIONAL AQUARIUM IN BALTIMORE TO MOVE DOLPHINS - One subjects that generates controversy in aquarium circles is the keeping of large marine mammals in captivity, let alone using them for show. On the one hand, the argument is that these animals are too intelligent to be kept in what some perceive as a aquatic jail. The other side argues that if we are to protect these animals in the wild, the best way is to have some in captivity because the public is usually more willing to love and save what they see rather than just what they hear about. After years of protests, the National Aquarium in Baltimore has decided to move their dolphins to a yet-to-be-designated sanctuary. You can read more about the decision here: http://www.baltimoresun.com/business/bs-bz-national-aquarium-moving-dolphins-sanctuary-20160613-story.html .

MALDIVES IN NOVEMBER - We still have spots available on our November Maldives trip and are now tacking on three days in Istanbul Turkey, on the way back. (This is similar to how we usually spend three days in Singapore on the way back from our Murex Manado trips.) Do we'll get in 9 fabulous days of diving the many atolls and reef near Male, and then have three days exploring an area that formed the basis of civilization. Pretty cool on both ends. Check out our TRIPS page for more info (http://www.reefseekers.com/foreign_trips.html) and you can also read the 2002 trip report (http://www.reefseekers.com/Maldives_2002.html). Then give us a call at 310/652-4990 to snag your spot.

ROBERT'S STILL ON VACATION - Just a reminder that if you have repair-related issues, Robert Stark is still on vacation through Wednesday. He should be available again Thursday at our repair number (310/947-8523).

FRANKEN-TURTLE - I can't take credit for the term but it seems to fit. Scientists in the Chesapeake Bay area note that each year, many Loggerhead turtles wash up dead along beaches in the region. What they don't know is where the Loggerheads have died before they washed ashore. So now they've taken the carcasses of two dead Loggerheads, outfitted them with GPS devices, and set them adrift to see where the wind and the tides take them. You can read more about this (it's sort of interesting, if not a little macabre) here:
http://eedition2.latimes.com/Olive/ODE/LATimes2/LandingPage/LandingPage.aspx?href=TEFULzIwMTYvMDYvMTk.&pageno=MTA.&entity=QXIwMTAwMw..&view=ZW50aXR5.

TUTU FUNNY - One the things that happened during the weekend trip up to New York was that my wonderful collection of cousins, led by Janie Brady, decided they were going to throw me a surprise post-65th birthday party. But it didn't end there. Because they think I'm "too too wonderful," they made it into a tutu party and everyone (even the dog - although my dad demurred) wore pink tutus all afternoon. I promised to share the pictures and here's the group pix and my individual shot. Not sure if this is a good look or not: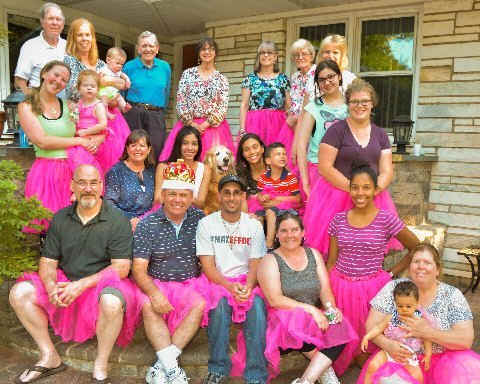 --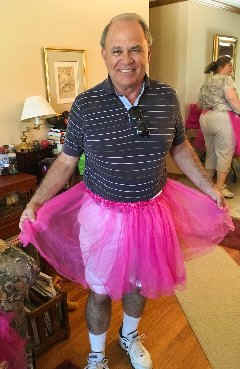 And that'll do it for now. Have a great week and let's go diving tutu soon!!!

- Ken
—————————————————
Ken Kurtis
Owner, Reef Seekers Dive Co.


s© 2016 Reef Seekers Dive Co. All Rights Reserved.