• • • REEF SEEKERS REPAIR DEPARTMENT • • •
Contact our repair guru Robert Stark directly at 310/947-8523
or via e-mail at ReefSeekersRepair@gmail.com
(Ask Robert about our unique concierge "Repair Pickup & Delivery Service")

SAVE 33% ON YOUR REG, OCTO, OR BC REPAIR - CLICK HERE TO FIND OUT HOW
————————————————————————————————————————————————————————————————
Upcoming local dives (call 310/652-4990 for more info and to register):

• MORE TO COME IN 2016 BUT SO FAR . . .
• Saturday, February 20 - 35th Annual Avalon Underwater Cleanup
• Saturday, March 12 - Diver's Day at the Long Beach Aquarium of the Pacific (9AM-5PM)
• Wednesday, May 4 - Chamber Day & Eve 2016
————————————————————————————————————————————————————————————————
Want to travel??? Upcoming 2015-2016 vacation trips:

• March 11-19 - Yap (can be combined with Palau)
• March 20-27 - Palau on the Palau Aggressor II [ can be combined with Yap - ONE spot left ]
• Late June or early July - Bonaire or possibly Cayman
• August 1-6 - Isla Guadalupe & Great White Sharks [ ONLY 6 SPOTS AVAILABLE ]
• August 20-27 - Isla Mujeres & Whale Sharks, cenotes, and statues
• August 13-20 - Isla Mujeres & Whale Sharks, cenotes, and statues [ TECHNICALLY THE "SECOND" WEEK EVEN THOUGH IT COMES FIRST ]
• November 3-16 - Maldives on the Manthiri [ 6 SPOTS CONFIRMED - ONLY 6 STILL AVAILABLE ]

GET MORE INFO ON ALL OF OUR VACATION TRIPS HERE: www.reefseekers.com/foreign_trips.html
————————————————————————————————————————————————————————————————
Short and sweet . . .

DOUBLE WHAMMY - When the month ends on a Sunday, it's a double whammy for me since I've got to do both TWARS and the monthly newsletter. On top of that, I'm finishing up an extended weekend in New York to celebrate my cousin Ellen's 65th b-day. So this will be fairly short. Depending on when our plane lands and I actually get home, the newsletter most likely will not arrive in your in-box until sometime mid-day on Monday. But a highlight of the trip was gassing up on the way back to JFK and seeing this
: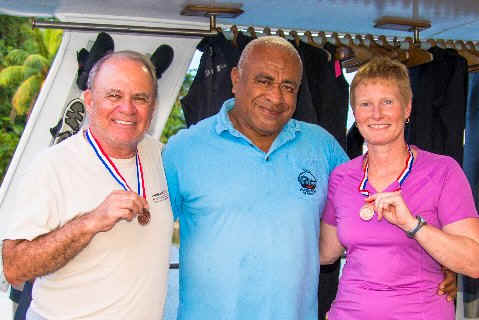 EL NINO?? - Well, it hasn't been a deluge yet even though we're supposed to get rain today (Sunday - I'm writing this in NYC) but it's certainly been a damp January. Fortunately from a diving standpoint, it hasn't mucked things up too often. However, the traditional pattern with El Ninos is that they tend to be strongest in February and then into March. So we shall see.

CLEANUP IN THREE WEEKS - Barring an El Nino interruption . . . the Avalon Cleanup is a little less than three weeks away. We'll be going over on the 6:15AM boat out of Long Beach which gives us plenty of time to set up and have a leisurely breakfast before the 9AM briefing and the 9:30AM start of the dive. You've got until 11AM to gather all the trash you can find - perhaps a bit more this year than usual due to runoff from all the rain - and then you can choose to keep diving in the park (we'll send you over in a taxi) or we'll have your gear stored for you. It all benefits the City of Avalon (who gets their harbor cleaned) as well as the Catalina Conservation Divers and the Catalina Hyperbaric Chamber. If you want to join us, give us a call at 310/652-4990 and we'll get you on our list.

SARGASSUM RUN AMOK - We're hearing more reports, the latest from Dr. Bill, or the Sargassum really spreading in the water conditions now. We know there's a lot around Ship Rock and now Bill says it's getting pretty thick in the Avalon Underwater Park too. The issue is, even though the Sargassum is somewhat seasonal, that it can block sunlight and block places for kelp to regenerate. So less-Sargassum is a good thing. Hopefully, one or two storms coming through might rip a bunch of it away.

AND FOR THOSE WHO THINK I'M NOT KID-FRIENDLY - Proof positive that that's not correct with my 2-month-old newest cousin, Wally: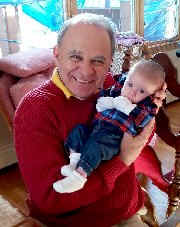 And that'll do it for now. Have a great week and let's go diving soon.

- Ken
—————————————————
Ken Kurtis
Owner, Reef Seekers Dive Co.


s© 2016 Reef Seekers Dive Co. All Rights Reserved.