• • • REEF SEEKERS REPAIR DEPARTMENT • • •
Contact our repair guru Robert Stark directly at 310/947-8523
or via e-mail at ReefSeekersRepair@gmail.com
(Ask Robert about our unique concierge "Repair Pickup & Delivery Service")

SAVE 33% ON YOUR REG, OCTO, OR BC REPAIR - CLICK HERE TO FIND OUT HOW
————————————————————————————————————————————————————————————————
Upcoming local dives & classes in 2013 (call us at 310/652-4990 to sign up for any of these activities):

• Sat., March 22 - Aquarium of the Pacific - Divers Day - 9AM-5PM - FREE by showing your c-card
• Wed., March 26 - Veterans Park - Squid dive - 7:30-10:30PM - FREE!!!
• Sat. Apr. 5 - Avalon Underwater Park - Catalina Express for three dives (9AM-6PM - $150)
• Sun., Apr. 13 - Asante - Ship Rock & more (7AM-4PM - $155 - wide open)

SAVE $10 EACH TRIP AS A MEMBER OF OUR "FREQUENT DIVER" PROGRAM

PRINTABLE ––––> 2014 SKED FOR CLASSES, LOCAL BOATS, AND FOREIGN TRIPS

Need rental gear? Get a 20% discount at Hollywoodivers (near Universal City) or Scuba Haus (Santa Monica). ————————————————————————————————————————————————————————————————
Want to travel??? Upcoming 2014 vacation trips:

• May 17-24, 2014 - Bonaire (2 and counting . . .)
• July 5-20, 2014 - Indonesia (11 confirmed already - max 16 divers)
• August 16-23, 2014 - Return to Isla Mujeres for Whale Sharks (5 confirmed so far)
• Fall trip - anyone interested in Fiji?????

GET MORE INFO ON ALL OF OUR VACATION TRIPS HERE: www.reefseekers.com/foreign_trips.html
————————————————————————————————————————————————————————————————
Greetings from the East Coast . . .

MY DAD'S 85TH BIRTHDAY - That's the reason my sister and I flew back, arriving Friday morning and delighted at seeing snow still on the ground!!! But by Saturday afternoon, with temps in the lows 60s, the snow had disappeared: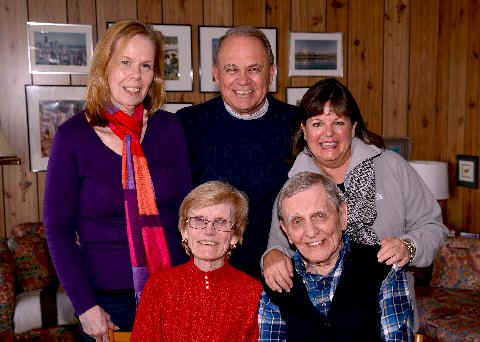 CONGRATS TO OUR MARATHONERS
- Reef Seekers DM Mitch Jacoves got up early and finished 26.2 miles later in the highly-respectable time of 5:22:02 in today's run. Shirley Parry finished slightly ahead of Mitch in 5:11:05. Judy Haruki also ran and finished but I couldn't get her time. I know we had some other divers running, but I can't seem to find their results on the Marathon website. But congrats to all, especially given the temps today. Having run the thing five times myself (in my younger days), I know what an effort and commitment this takes. Here's Mitch, proudly displaying his finisher medal: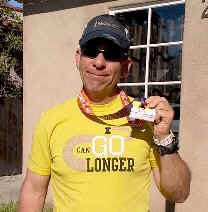 SADLY, NO YAP NEXT WEEK
- It breaks my heart to say it, but we're not leaving for Yap on Friday because we ended up with no one being able to go. So the Ken Kurtis Wing of the Manta Ray bay Hotel will be lonely. Doesn't mean we won't be going back but just sometimes the timing doesn't work out. I'm sure the mantas will miss us.
BUT WE DO HAVE BONAIRE ON THE BOOKS
- That's our traditional post-Chamber Day trip and this year it's May 17-24 (coming back on Memorial Day Weekend). And there have been some airline developments that will impact this trip, as well as anyone else contemplating a visit to Bonaire. United has eliminated the usual Houston-Bonaire flight arriving in Bonaire at 5AM. On the one hand, it's (IMHO) a brutal sked and I won't miss this. But what it does is remove about 150 seats from inventory and that means the people who would have taken that flight have to move elsewhere, which tightens down available seating. It also appears they've eliminated their Sunday flight from Newark, which further reduces available seats. Now you leave LAX late Friday evening and fly through Newark (NJ), connecting there with a 9AM flight that arrives in Bonaire around 1PM. That's not too bad. The return is still not the greatest, leaving Bonaire at 7:30AM Saturday morning, this time going back through Houston, and arriving in LA Saturday afternoon. Or you go Delta leaving Friday night into Atlanta, connecting there with a flight that gets into Bonaire around 2PM and leave Bonaire at 3PM the following week. Now's where it gets interesting . . . The United routing, even though there seem to be seats in coach, is only available as First Class and it comes in at $1116 (which isn't too bad considering we paid $1100-ish last year for coach.) Delta's the same $$$$ for First Class. Add in that you're not paying baggage charges in First Class, you get fed, and on a redeye, you can probably sleep better. Quite frankly, I think First Class makes sense. When you factor in that you're going to pay about $70 each way in baggage charges if you check two bags, it's pretty much a wash but you get earlier boarding and food in First. I will most likely book mine that way. So if you're at all thinking about this trip (land portion for Bonaire - includes breakfast, all diving, car, room, tips - is $1925), let me know. We can do Coach on Delta for around $900 but I think it makes sense to shell out the extra for First. But give me a call at 310/652-4990 and we can discuss it further.
CH-DAY AND EVE BECKON
- We're in the midst of signups for this annual charity event. We serve as the co-ordinating store and you guys (our customer base) has always provided a large measure of support. We're on the
Cee Ray
(and the
Flying Dutchman
) for the Day and we have a table for the Eve. Plus we'll be making our annual donation to the Chamber Challenge. Hopefully you'll all be participating in one way or another. You can sign up through the website at
www.chamberday.org
or call us directly at 310/652-4990.
REPAIRS ARE COMING IN
- Don't forget that when we service your gear regularly (and by that we mean at least once every 18 months - well give you a little leeway from the one-year annual requirements) you become a member of our "Repeat Offender Program" which means you'll save 33% on
BOTH
parts and labor on your next service. If we've seen you in the last 18 months, you should have gotten a notice from Robert. If you're unsure if you're currently qualified, call Robert at 310/947-8523 (our direct repair number) to find out. But you can always get yourself back in the game by bringing your stuff in. In addition to the discount (and perhaps more importantly) we offer great work and quick turn-around.
STOPPING THE ORCA SHOWS
- There's been a bill introduced in the California Legislature to stop the captive breeding of Orcas, prohibit the import/export of Orcas across state lines, and would ban forcing Orcas to perform during shows. Read more about it here:
http://www.huffingtonpost.com/2014/03/07/ban-performing-seaworld-orcas_n_4920661.html
.
And that's about it for now. Have a great week and let's go diving soon!!!
- Ken
—————————————————
Ken Kurtis
Owner, Reef Seekers Dive Co.


s© 2014 Reef Seekers Dive Co. All Rights Reserved.