• • • REEF SEEKERS REPAIR DEPARTMENT • • •
Contact our repair guru Robert Stark directly at 310/947-8523
or via e-mail at ReefSeekersRepair@gmail.com
(Ask Robert about our unique concierge "Repair Pickup & Delivery Service")

SAVE 33% ON YOUR REG, OCTO, OR BC REPAIR - CLICK HERE TO FIND OUT HOW
————————————————————————————————————————————————————————————————
Want to travel??? Upcoming 2016-2017 vacation trips:

• August 13-27 (back-to-back weeks) - Isla Mujeres & Whale Sharks, cenotes, and statues [ WE'RE BACK!!! ]
• November 3-16 - Maldives on the Manthiri [ 1 FEMALE-SHARE SPOT LEFT ]
• 2017 - July 7-19 - Yap Immersion #1 (special 13-day trip featuring all that Yap has to offer) [ LIMITED TO 12 DIVERS - 5 SPOTS LEFT ]
• 2017 - July 21-August 2 - Yap Immersion #2 (week #2 - same sked as above) [ LIMITED TO 12 DIVERS - 9 SPOTS LEFT ]

GET MORE INFO ON ALL OF OUR VACATION TRIPS HERE: www.reefseekers.com/foreign_trips.html
————————————————————————————————————————————————————
First the good stuff then the horrible stuff . . .

FABULOUS SECOND WEEK IN ISLA MUJERES - As good as our first week in Isla Mujeres was with Group 1 (and it really was good - no BS), this past week with Group 2 was even better (with the exception of one day). One reason was that we didn't have any weather issues in Week 2 like we did in Week 1, so we got to do all the dives we planned to do when we planned to do them. We had a lovely dive Sunday afternoon in MUSA (the Cancun Underwater Museum with all the statues), we had a really nice day on Tuesday at the Chac Mool cenote south of Playa del Carmen, and we had a nice wreck & reef dive off of Isla on Thursday. But the highlight - maybe even a lifetime highlight - was the Whale Sharks, certainly on Monday and Friday. They were simply everywhere you looked. From the boat, you could literally see perhaps a hundred on the surface all over the area. Underwater (viz was probably 50-80 feet) we frequently would be able to see as many as five at a time, all scooping water into their mouths, and all merrily going about their business without a care in the world about the dozens and dozens of boats or scores and scores of snorkelers surrounding them. Wednesday, however, was a different story. Conditions were marginal at best, we got the crap bounced out of us on the hour+ ride out (the Whale Shark area changes a bit daily but is generally 18-20 miles offshore from Isla - further for those boats leaving from Cancun proper) and when we got there, there was not a Whale Shark in sight. Whereas previously you could find them with your eyes closed, on Wednesday it took us probably 20 minutes to find the first one. We eventually located a small group of five and our captain, Jose, had everyone go in the water because - as he said in his broken English - "Every other boat in the area will be on top of us in 10 minutes." And they were, since we had the only show in town. But Friday more than made up for that with calm seas and Whale Sharks galore (although the water was a little greeener). I'll be working on the trip report this week but the bottom line on this is that this is at least a Bucket List Dive that you must do at some point. I've been posting pix for two weeks through Facebook but for those that haven't followed us there, here's a link to the SmugMug daily galleries (each one has 10 pix and is labeled): https://kenkurtis.smugmug.com/DIVE-TRIP-PHOTOS-ALL/2016-Dive-Trips/ISLA-MUJERES-DAILY-TOP-10-PIX . And here's a few teaser pix to motivate you to check out the rest: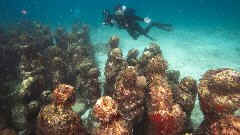 -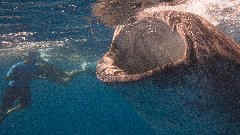 -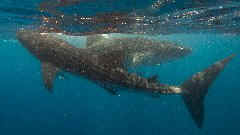 -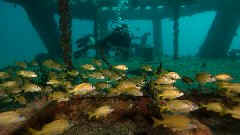 -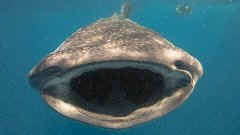 HORRENDOUS TIME GETTING HOME - The joys of travel . . . not. Our group of 11 was on four different flights coming home: 1 American, 2 United, 1 Delta. When we got to the Cancun Airport on Saturday, we were quite dismayed to discover that the United Airlines system computers in Cancun were down and that every single flight was being delayed because they had to check everyone in by hand as well as tag all the bags by hand. There had to be over 1,000 people in line for numerous flights and to say it was a disorganized mess is being generous. It didn't affect the American or Delta flights so those folks were OK. But for our two people on the 2:55PM United non-stop to LAX and the five (including me) on the 5:20PM non-stop to LAX, it was a nightmare. Those of us on the later flight were all flying First/Business but even in that separate line (which was mixed with United Premiere), it took us a little over TWO HOURS to get checked in. We were lucky. Our two people in Economy on the 2:55PM flight stood in line literally for over FIVE HOURS before they got checked in. Our 5:20PM flight finally left around 7:20PM and got in to LAX at 10PM. But to add insult to injury for the earlier flight, they ended up sitting on the tarmac for an hour so our flight actually took off before theirs, and then they were informed that their crew was going to timeout - reaching the maximum number of hours they could work in a day - with a 5-hour flight to LAX, so the 2:55PM plane, already 4.5 hours late leaving, was diverted to Houston (2 hours away) where they had them clear Customs & Immigration, brought in a new flight crew, and then reboarded the same plane and flew to LAX. Their flight was originally supposed to land at 6PM and didn't get in until 1AM. On top of that, both of those people live in Orange County so once getting bags and driving, it was after 2:30AM when they got home. Not the way we'd like to end a trip but not much you can do about it. And the helplessness of it all only exaccerbates the negative feelings. I will say that on our flight, one of guys was going to miss his connection to Phoenix and when we landed, United had already re-booked him for the first flight on Sunday and had made a hotel reservation for him with a prepaid voucher that included food money. So from that standpoint, they were trying to make the best of a bad situation. But . . . OY VEY!!!!!

NEXT UP IS THE MALDIVES - We'll probably get some Whale Sharks there as well, and possibly some mantas too, as well as reefs that I described the first time I dove them in 1996 as "visually overwhelming". Simply put, it's a wonderful place to dive. Here's what I wrote about our second trip back in 2002: "But the diving was - in a word - fabulous. The short version is that if you subtract whale sharks and manta rays, we saw just about everything else over the course of the 30 dives we made in 9½ days of diving. We traveled to five of the Maldivian atolls (North & South Malι, Feldihe, Ari, and Rasdhoo). Water temperature was a toasty 85Ί and the visibility averaged 100' with the water generally a deep shade of blue. There was one dive where Manik, Moosa, and I all came back with grins on our faces and each of us asked, "So, what do you think the visibility was?" We collectively agreed that it was 200' and you got a stunning perspective of the reef on that particular dive." And the good news for you - well, the good news if you're a gal or a close male friend of Tamar Toister - is that we've got ONE female-share spot available (in the room with Tamar) on the Manthiri. The boat, BTW, is also fabulous and the crew of 11 will take very good care of the 12 divers (that's a full boat - all us) on board. I mean, how often do you get a 1:1 crew:passenger ratio? It's definitely not a cheap trip as the boat and tip and hotel overnights in and out will come in at $4,895. On top of that airfare on Turkish Airlines is pricing out (Economy) at $1,060. If you want to add in the 3-day stopover we're doing in Istanbul on the way back, that's about another $500. So this trip memorable and worth every penny. But not inexpensive. If you want to snag that last spot, give me a call and let's get your name on our list.

HAWAIIAN ISLAND MARINE PRESERVE EXPANDS - George W. Bush did it in his second term and now Barack Obama's doing it as his presidency comes to a close. Some call it legacy-building but the bottom line is that it's ocean protection. Bush first created the Northwestern Hawaiian Island Marine National Monument in 2006, designating an area that was at that time larger than all of the US national parks combined. Last week, Obama signed an order that quadrupled the protected area, to almost 600,000 square miles. On top of that, this coming week he'll be in Hawaii and is planning to visit Midway Island (where I was in 1998) which is part of the protected area. You can read more about this as well as see maps of the area with this link:
http://www.huffingtonpost.com/entry/papahanaumokuakea-expansion-2016-obama-largest-marine-protected-area_us_57bf8f32e4b085c1ff28c654.

NEW SUNKEN WARSHIP DISCOVERED OFF THE CA COAST - Now before you get your hopes up, realize that it's at a depth of about 2,500 feet. But famed oceanographer and explorer Bob Ballard can add another discovery to his long list (the Titanic wreck is the most famous) as he's located the USS Independence in the Farrallon Islands National Marine Sanctuary. You can read more about it here:
https://www.washingtonpost.com/national/health-science/underwater-expedition-off-california-reveals-sunken-warship/2016/08/24/7ae127b8-6a30-11e6-91cb-ecb5418830e9_story.html.

And that'll do it for now. Have a great week and let's go diving soon!!!!

- Ken
—————————————————
Ken Kurtis
Owner, Reef Seekers Dive Co.


s© 2016 Reef Seekers Dive Co. All Rights Reserved.