• • • REEF SEEKERS REPAIR DEPARTMENT • • •
Contact our repair guru Robert Stark directly at 310/947-8523
or via e-mail at ReefSeekersRepair@gmail.com
(Ask Robert about our unique concierge "Repair Pickup & Delivery Service")

SAVE 33% ON YOUR REG, OCTO, OR BC REPAIR - CLICK HERE TO FIND OUT HOW
————————————————————————————————————————————————————————————————
Upcoming local dives & classes in 2014 (call us at 310/652-4990 to sign up for any of these activities):

• Sat., November 29 - Veterans Park - Beach Dive (single tank - $20)
• Thu., December 4 - CLASS - Navigation (dry - $25) • Sun., December 14 - Asante - Oil Rigs (wide open - $130)
• Wed., December 17 - Veterans Park - Squid Dive (single tank - FREE!!!) FULL 2014 SKED (TRIPS & CLASSES):

FULL 2014 SKED (TRIPS & CLASSES): http://www.reefseekers.com/FLYERS/2014%20RSD%20Boat%20&%20local%20sked%20(chronological).pdf

SAVE $10 EACH TRIP AS A MEMBER OF OUR "FREQUENT DIVER" PROGRAM
Need rental gear? Get a 20% discount at Hollywoodivers (near Universal City) or Scuba Haus (Santa Monica).
————————————————————————————————————————————————————————————————
Want to travel??? Upcoming 2015 vacation trips:

• November 1-8 - Belize Sun Dancer (READ THE TRIP REPORT & SEE THE PIX)
• March 6-15, 2015 - Yap (Manta Rays, Mandarinfish, sharks & more) with our good friends at Manta Ray Bay Resort
(9 confirmed - can be combined with Palau)
• March 13-22, 2015 - Palau (Blue Corner, Peleliu, drift & reef diving at its best) aboard the Palau Aggressor II
(10 confirmed - max is 11 - can be combined with Yap)

GET MORE INFO ON ALL OF OUR VACATION TRIPS HERE: www.reefseekers.com/foreign_trips.html
————————————————————————————————————————————————————————————————
I think I need another vacation . . .
BELIZE TRIP REPORT & PIX
- As you probably noticed over the weekend, I've completed the trip report and pix for our Belize adventure and all are posted on-line. I got a little discombobulated with the video link. It does not appear on the SmugMug page but is a separate link unto itself. Direct links are below or you can get them from the home page at
www.reefseekers.com
. And the short version is that even though the trip wasn't quite what we'd expected fish & reef-wise, we all had a really good time and a lot of that credit goes to the crew of the
Sun Dancer II
who went out of their way (and this is their normal MO) to make everyone's trip as pleasant aspossible. Here are the various links:
SMUGMUG PIX & SLIDE SHOW -
http://kenkurtis.smugmug.com/Underwater/BELIZE-NOVEMBER-1-8-2014/45738939_Bxh9hX#!i=3697604968&k=KNkpxmQ

"MORNING MORAY" VIDEO -
https://www.youtube.com/watch?v=xMsN5D_2rnI
SNORKELING TOO
- I forgot to mention this in the trip report but Susan Crandall, who's a snorkeler, was reporting to us after each dive how good the snorkeling was in the shallows. In fact, it seemed that she saw as much or even more than the divers did. So sometimes it's a question of being in the right place at the right time and it could also be that the fish were so not used to seeing snorkelers that they were checking Susan out as much as she was checking them out. One funny story happened on the first day. Susan generally goes in after the last diver and will stay out until the last divers are coming back. No big deal for her and I'm used to it to so I really don't think of mentioning it to anyone. But according to the
SD2
crew, usually when someone says they're a snorkeler, what it means is that they plop in, circle the boat once, and then come back. So on the first dive of the trip, when they saw her some 100+ yards from the boat, they just assumed she has accidentally drifted there and couldn't get back and sent a chase boat for her. Once they caught on that this was normal, they were OK with everything although they did ask her to tow a small safety sausage so it was easier to spot her on the surface. All good.
IRON DIVER - The other thin I forgot to mention in the written report was a new "award" that the Aggressor and Dancer boats are giving out to anyone who makes every scheduled dive during the week of the trip. Apparently this all started on the Kona Aggressor. Kona, as you may know, is the home of the Ironman Triathlon. (I think there Kona Aggressor also provides water support each year for the swim portion.) So at Kona, they started giving out "Iron Diver" medals to anyone who did all the dives and it's apparently spread throughout the fleet. We had three Iron Divers on our trip: Jay Lark, Louis Pilon, and me. Here's what the medal they gave each of us looks like: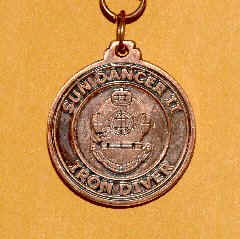 LOCAL CONDITIONS
- We had an Aquarium dive team out on Wednesday and they made it all they way out to Land's End which is the extreme western tip of Catalina's West End, where you would make the turn to go to Farnsworth. (If you've never dove there, there are some really great ledges and formations and it's a great dive. Hard to anchor there though.) But they reported 100-foot vis and 68º water down around 100 feet of depth. Not too shabby. However . . . apparently by Sunday, things had turned to crap and even dangerous. I know of one small private boat that left in the morning and turned back and I heard it got so rough at the Avalon Underwater Park that divers were exiting on to the rescue boats rather than risk it going back up the stairs and then it seems most of the park diving was canceled for the rest of the day. Just goes to show that things can change in a short amount of time.
DEMA SHOW
- As you may know DEMA stands for Dive Equipment Marketing Association and is the promotional arm of the dive industry. Each year around this time, the annual DEMA Show is held and it's the dive industry under one roof. (Think of the Scuba Show x 10 on steroids.) This year the annual confab is being held in Las Vegas and I'm going to be there during the week since I haven't gone since 2011. I'll mainly be looking at travel options but will also be keeping my eye out for new photo stuff and regular scuba gear as well. (I also plan to get a little golf in while I'm in Vegas.) I'll try to give you a report next week.
UNDERWATER BEER COMMERCIAL
- We leave you with an interesting video which is a Brazilian beer commercial that was shot entirely underwater. In fact, they do such a good job of it that you sometimes can't tell the people are underwater in some of the shots. (I would like to have seen more tiny bubbles trickling from people's mouths.) In addition to the actual finished commercial, there's also the back-story of how they did it. (Ignore the part where they refer to "oxygen tanks.") But it's nicely done:
http://www.adweek.com/news/advertising-branding/crazy-beer-ad-was-filmed-entirely-underwater-heres-how-they-did-it-161232
.
And that's it for now. Have a great week and let's go diving soon!!!
- Ken
—————————————————
Ken Kurtis
Owner, Reef Seekers Dive Co.


s© 2014 Reef Seekers Dive Co. All Rights Reserved.