Alphabetically: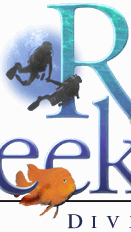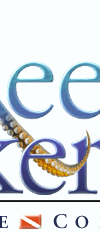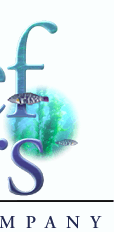 P.O. Box 634 • Beverly Hills, CA 90213

(310) 652-4990
——————————————————————————————————————————————

Follow us on Facebook by clicking this link and then choosing "LIKE":
www.facebook.com/reefseekers

———————————————————————————————————————————————
Can we keep you up-to-date on the latest news and activities?
Join our e-mailing list. Get the weekly "This Week at Reef Seekers" (TWARS)
and the monthly Reef Seekers Dive Co. four-page newsletter.
Click this link and put "Add me" in the subject line: Add me to the e-mail list
———————————————————————————————————————————————
THIS WEEK (February 11-18) AT REEF SEEKERS DIVE CO.

(Please scroll down a bit for all the info, text, pictures, & links.)

FIJI 2017 TRIP REPORT FIJI 2017 PIX & SLIDESHOW

2018 LOCAL DIVES & CLASS SCHEDULE

CLICK HERE TO READ OUR MONTHLY NEWSLETTERS

CLICK FOR OUR PICTURE PAGES CLICK HERE FOR OUR FOREIGN TRIP REPORTS

DIRECTIONS TO BOATS and VETERANS PARK (REDONDO)

• • • REEF SEEKERS REPAIR DEPARTMENT • • •
Contact our repair guru Robert Stark directly at 310/947-8523
or via e-mail at ReefSeekersRepair@gmail.com
(Ask Robert about our unique concierge "Repair Pickup & Delivery Service")

SAVE 33% ON YOUR REG, OCTO, OR BC REPAIR - CLICK HERE TO FIND OUT HOW

————————————————————————————————————————————————————————————————
Want to travel??? Upcoming 2018 vacation trips:

• April 14-21 - Bonaire (REDUC

E

D PRICING - Buddy Dive - easy, reliable diving)
• June 8-20 - Yap Immersion (8 confirmed - room for 4 more)
• July 14-28 - Sulawesi, Indonesia with our friends at Murex (includes a day at Lembeh Straits)
• August 18-25 - Isla Mujeres (Whale Sharks, Cancun Underwater Museum, Cenotes)
• October 27 - November 3 - Roatan at Anthony's Key

GET MORE INFO ON ALL OF OUR VACATION TRIPS HERE: http://www.reefseekers.com/foreign_trips.html




————————————————————————————————————————————————————————————————

Upcoming local dives & classes:



•

Sat., Feb. 24 - Catalina Express - 37th Avalon Underwater Cleanup ($150)
• Thu., Mar. 1 - CLASS - Photo Workshop ($25)
• Sat., Mar. 10 - Aquarium of the Pacific - Diver's Day (FREE!!!)
• Sat., Mar. 17 - Catalina Express - Underwater Park ($150)
• Thu., Mar. 22 - Redondo - Squid Dive (FREE!!!)

To sign up for any of these dives, either call us at 310/652-4990 or e-mail us at kenkurtis@aol.com ————————————————————————————————————————————————————————————————
Don't dilly-dally . . .

AVALON CLEANUP EARLY REGISTRATION ENDS THURSDAY - The deadline for getting the early-bird pricing on the Avalon Underwater Cleanup is this Thursday. After that, it goes up by $10. Not the end of the world, but then again, $10 might cover part of your lunch. It's a great event, you get a chance to dive area normally off-limits to us, and it benefits both the Catalina Conservation Divers and the Catalina Hyperbaric Chamber. If you want to come with us, $150 gets you covered for everything (including boat and taxis), or you can sign up on your own. But please support this great event. The date is Saturday, February 24. Hope to see you there.

FABULOUS PALOS VERDES CONDITIONS OVER THE WEEKEND - Phil Garner (Max Bottomtime is his on-line persona) reports really good vis - roughly 30 feet - and clean/blue water around PV this weekend. Also looked good on the Redondo live cam as it looked pretty flat at Vets Saturday and Sunday (better Sunday than Saturday). Phil also says the water seemed warm, registering at 61º on his gauge.

SPEAKING OF THE REDONDO CAM - I gave you a link to it a few weeks ago - it's now an HD live stream instead of still pix - but they had a glitch in the code and they had to re-write it and change the URL. The updated, corrected new URL is https://www.youtube.com/watch?v=ciWA_fwQkTs . I've been checking it off and on all week and it looks very good. Gives you a nice view from the edge of the Redondo Pier looking south towards Vets. If you'd like a view a little further south (still images but they auto-update every few seconds) try this one: http://www.luvinlife.me/Beach_Cam.html . I don't know who Dave & Kathy are, but I'm glad they're willing to share their images with us.

UNREST IN THE MALDIVES - Sounds like there are political rumblings in the Maldives, according to a recent article in the Los Angeles Times. The Supreme Court chief justice has been arrested and a state of emergency has been declared. My first thought, of course, turned to our friends on the Manthiri. I sent a note to Moosa and asked if this is affecting them at all, and he quickly sent back a note saying that everything was all right. Hopefully that holds for them. Here's the article if you haven't already seen it: http://www.latimes.com/world/asia/la-fg-maldives-explainer-20180206-story.html.

SCUBA HAUS IS CLOSING

- Rocky Stickell and Scuba Haus have been fixtures (and good friends of ours) in the diving community for years but that will come to a close at the end of this month as Rocky has decided to close the store. Their lease was up for renewal and Rocky has decided that, for many market reasons, it was time to wind it up. It also means he's unloading all of his inventory, as well as rental gear and some other items, at discounted prices. Needless to say, all sales will be final. So if you're in the market for some gear and are looking for a deal, you can either give Rocky a call at 310/828-2916 or visit them at 2501 Wilshire Blvd. in Santa Monica (just west of Cloverfield/26th - there's parking in the back). Rocky says he's not retiring but is taking a new position with Trident to help them get a new in-house division going.


FABULOUS NEW U.S. POSTAGE STAMPS - How about some bioluminescence? (Thanks to Jerry Kasper for the heads-up.) Following up on their fabulous series of sharks stamps from a few months ago, on February 22, the U.S. Postal Service will issue a set of 10 stamps the depict bioluminescence. Mostly ocean creatures, but not all. (There's even a rumor the stamps may glow in the dark like the animals do.) These are Forever stamps so are 50 cents each and come 20 to a sheet. You can get more details here: https://www.linns.com/news/us-stamps-postal-history/2018/february/usps-ten-stamps-celebrating-bioluminescent-life-scientist-speak-february-twenty-two-fort-pierce-ceremony.html?utm_medium=Email&utm_source=Lyris&utm_campaign=DigitalEdition
And here's what they look like: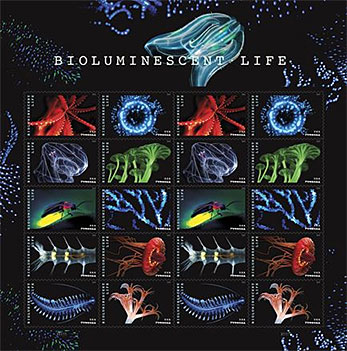 And that'll do it for now. Have a great week and let's go diving soon!!!



- Ken
—————————————————————
Ken Kurtis
Owner & NAUI Instructor #5936
Reef Seekers Dive Co.





s© 2018 Reef Seekers Dive Co. All Rights Reserved.