THIS WEEK (April 1) AT REEF SEEKERS DIVE CO.
(Please scroll down a bit for all the info, text, pictures, & links.)

PLEASE NOTE THAT WE ARE TRAVELING IN YAP & PALAU UNTIL 3/22
AND CANNOT REMOTELY UPDATE THIS WEBPAGE.
PLEASE VISIT OUR FACEBOOK PAGE FOR DAILY PICTURES FROM YAP
AND OCCASIONAL POSTS FROM PALAU
(because we're on a boat without Internet access)
• • • REEF SEEKERS REPAIR DEPARTMENT • • •
Contact our repair guru Robert Stark directly at 310/947-8523
or via e-mail at ReefSeekersRepair@gmail.com
(Ask Robert about our unique concierge "Repair Pickup & Delivery Service")

SAVE 33% ON YOUR REG, OCTO, OR BC REPAIR - CLICK HERE TO FIND OUT HOW
———————————————————————————————————————————————————————————————— Want to travel??? Upcoming 2015 vacation trips:

• March 6-22, 2015 - Yap & Palau (WE'RE BACK!!!!)
• June 20-27 - Bonaire at Buddy Dive
• July 11-22 - Indonesia (includes Bunaken, Lembeh Straits, & Bangka)
• July 31-August 5 - Great White Sharks at Guadalupe Island aboard the Belle Amie (I NOW HAVE AN EXTRA SPOT AVAILABLE ON THIS ONE)
• August 15-22 - Isla Mujeres and the Whales Sharks (plus cenotes and MUSA)
• October 21-26 - Great White Sharks at Guadalupe Island aboard the Nautilus Explorer (single male spot in a triple has opened up)
• November - TBA (might have a line on a Red Sea trip)

GET MORE INFO ON ALL OF OUR VACATION TRIPS HERE: www.reefseekers.com/foreign_trips.html
———————————————————————————————————————————————————————————————— Short and sweet since we traveled for 20+ hours to get home at 5AM . . .

BACK FROM YAP & PALAU - With one personal exception I'll get to in a moment, it was a really great two weeks in Yap at Manta Ray Bay and then in Palau on the Palau Aggressor II. In words you've heard me utter many times before . . . I'm working on the trip report and pictures and hope to have them up by the end of the week. I'll send a separate note on those. But the short version is that we had a really nice time in Yap despite some weather issues that caused a large swell which limited some of our dive site choices and we had an equally nice time in Palau despite the fact that it is much more crowded now than I remember it being eight years ago when we were last there. But in both cases, we want to single out the staff and crews of Manta Ray Bay Resort & Yap Divers as well as the crew of the Palau Aggressor II who both set the standard for how dive operations ought to be treating their guests. Each unique and each fabulous and attentive in their own way. We can't say enough good things about both of these operations.
WANT SOME PICTURES?
- Hopefully you were following us on Facebook (
www.facebook.com/reefseekers
) while we were in Yap where we had an Internet connection and I was able to post daily updates. In Palau, because we were on the boat, we had no Internet access. So I've put up 20 shots on SmugMug to give you a taste of what we saw. You'll notice that 10 of the shots are with my brand-new Nikon D750 and 10 of them are with my brand-new GoPro Hero4 Black. See if you can see a difference in quality between the two. Here's the link:
http://kenkurtis.smugmug.com/Underwater/A-Taste-of-Palau-entire-trip/48171070_7KWnFN
. Which brings me to my personal tragedy . . .
50 WAYS TO FLOOD YOUR CAMERA - Sadly, I drowned the brand-new Nikon D750 in Palau (first dive of the second day there as we entered Blue Hole) when I didn't notice that a latch on the back of the housing had not secured properly. Totally my fault and totally flooded. There must have been a gallon of water that came out of the inside of the housing. Fortunately, I had the new GoPro with me which can do both videos and stills. But I certainly learned a lot about the limitations of the GoPro as a still camera. I'll go into all of this in much more detail in the trip report. In the meantime, this is what Sad Flooded Ken looks like, on the dive where the camera flooded (after I'd taken it back to the boat), with appropriate lower-lip protrusion (courtesy of Hector Manglicmot of the PA2):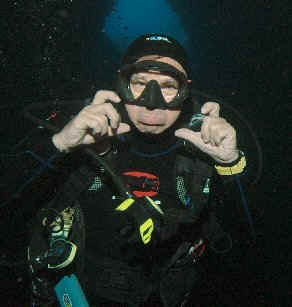 FLORIDA CORAL RESTORATION
- There was an interesting report I saw about a plan to restore Staghorn and Elkhorn coral to the reefs around the Florida keys. These two types of coral used to be very prolific as recently as 30 years ago but a number of factors has almost wiped them out. It's an issue because they serve as great reef builders and a wonderful nursery for many smaller fish. The total price tag of the plan is around $250 million, which doesn't sound bad when you think of what we spend on various wars and other such things on a regular basis. However, the amount budgeted for these type of things is only around $500,000. Makes you wonder where our priorities are. The other issue here is that the projected timeline for restoration to make the reef fully functioning again at previous levels is . . . 400 years. That should underscore the unintended consequences of global warming and human impact and hopefully help cause us to be a little bit more judicious with how we use our ocean resources.
And on those two cheery notes . . . That'll do it for now (given that it's late and I've still got to eat dinner - and on LA time, not Palau time). Have a great week and let's go diving soon!!!
- Ken

—————————————————
Ken Kurtis
Owner, Reef Seekers Dive Co.


s© 2015 Reef Seekers Dive Co. All Rights Reserved.