Alphabetically: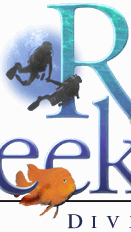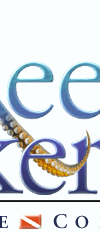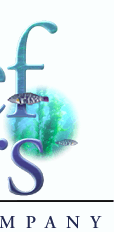 *** PLEASE NOTE THAT OUR PO BOX NUMBER HAS CHANGED - IT WAS 11634 ***

P.O. Box 634 • Beverly Hills, CA 90213

(310) 652-4990
———————————————————————————————————————————————

Follow us on Facebook by clicking this link and then choosing "LIKE": www.facebook.com/reefseekers

———————————————————————————————————————————————
Can we keep you up-to-date on the latest news and activities?
Join our e-mailing list. Get the weekly "This Week at Reef Seekers" (TWARS)
and the monthly Reef Seekers Dive Co. four-page newsletter.
Click this link and put "Add me" in the subject line: Add me to the e-mail list
———————————————————————————————————————————————

THIS WEEK (April 27 - May 4) AT REEF SEEKERS DIVE CO.
(Please scroll down a bit for all the info, text, pictures, & links.)

------------------ NEW!!!! ------------------
YAP & PALAU 2015 TRIP REPORT YAP & PALAU 2015 PICTURES & SLIDESHOW

SURGING SHARK FEED VIDEO BLUE CORNER DIVE VIDEO JELLYFISH LAKE VIDEO

2015 FOREIGN TRIP SCHEDULE
CLICK HERE TO READ OUR MONTHLY NEWSLETTERS

CLICK HERE TO VISIT OUR PICTURE PAGE CLICK HERE TO READ OUR FOREIGN TRIP REPORTS

DIRECTIONS TO BOATS and VETERANS PARK (REDONDO)
• • • REEF SEEKERS REPAIR DEPARTMENT • • •
Contact our repair guru Robert Stark directly at 310/947-8523
or via e-mail at ReefSeekersRepair@gmail.com
(Ask Robert about our unique concierge "Repair Pickup & Delivery Service")

SAVE 33% ON YOUR REG, OCTO, OR BC REPAIR - CLICK HERE TO FIND OUT HOW
————————————————————————————————————————————————————————————————
Want to travel??? Upcoming 2015 vacation trips:

• July 11-22 - Indonesia (includes Bunaken, Lembeh Straits, & Bangka)
• July 31-August 5 - Great White Sharks at Guadalupe Island aboard the Belle Amie (I NOW HAVE AN EXTRA SPOT AVAILABLE ON THIS ONE)
• August 15-22 - Isla Mujeres and the Whales Sharks (plus cenotes and MUSA)
• October 21-26 - Great White Sharks at Guadalupe Island aboard the Nautilus Explorer (now three spots available on this trip)
• December 1-13 - Red Sea Aggressor (southern route - includes possibility of snorkeling with dolphins) plus 2 days in Cairo [SOLD OUT]

GET MORE INFO ON ALL OF OUR VACATION TRIPS HERE: www.reefseekers.com/foreign_trips.html
————————————————————————————————————————————————————————————————
I played golf at Penmar Sunday and every time a plane took off from Santa Monica Airport, we kept an eye on it in case it was Harrison Ford again . . .

CHAMBER DAY 2015 IS WEDNESDAY, MAY 6 - It's a little over a week away. We're doing . . . okay . . . but it's not like we're setting any find-raising record yet. However, we've still got time to change that. But we need your help. To some of you who are newer divers, this is your chance to support the diving community overall by supporting our Chamber. In the unlikely event that something goes wrong on your dive, availability of our Chamber could literally mean the difference between life and death. So you have to ask yourself: What's that worth? $50? $100? $1,000? Every dollar keeps our Chamber strong. For those of you who are veteran divers, you may be thinking, "I gave last year so what's the big deal?" Well, the big deal is that our Chamber stands ready 24 hours a day, seven days a week, 52 weeks each year. So that money you gave last year has already been spent to keep our Chamber at the ready. And that's why we need you again. So whether you're a newbie, a veteran, or someone in-between, your support is vital. If you want to dive, there's Chamber Day with two dives at Catalina plus a walking tour of the Chamber. If you can't take the day off, there's the Flying Dutchman, our mythical boat that also gets you a unique Chamber Day Dutchman t-shirt. If you want to come to what's been aptly tagged "scuba prom," then make plans to attend Chamber Evening at the Aquarium of the Pacific. And if none of that works for you, there's always the Chamber Challenge. That's a direct donation to the Chamber which we can immediately put to good use. So no matter what aspect of this event appeals to you, I hope you'll take a moment to support us this year. Here's the direct link to the donation page: https://secure.www.alumniconnections.com/olc/pub/SCA/events/event_order.cgi?tmpl=events&event=2362818 .
GOOD DIVE CONDITIONS AT CATALINA
- Apparently it was a little too bumpy to make it around to the backside this weekend, but we've been hearing reports of lots of cool sightings like Black Sea Bass, Bat Rays, and the like at Catalina. The water's still relatively warm, which is both a blessing and a curse since it may be hampering kelp growth while allowing Sargassum to flourish but the point is that there's good stuff to be seen if you take the time to go out and actually dive.
WAS THAT THERE BEFORE?
- Speaking of good diving, there's a great story coming out the Great Lakes (no pun intended) about a USCG helicopter on a routine patrol as the ice is melting up there and they're suddenly discovering these heretofore unknown "new" wrecks because the water's been so clear and they can see them from the air. Pretty neat and you can read all about it here:
http://www.aol.com/article/2015/04/20/coast-guard-helicopter-spots-historic-shipwrecks-during-routine/21174185/?icid=maing-grid7%7Chtmlws-main-bb%7Cdl11%7Csec1_lnk3%26pLid%3D646791
.
GLOBAL-ENTRY vs TSA PRE-CHECK
- After my note about Pre-Check the other week, some of you asked me about the differences between that and Global Entry. In simple terms, Global Entry is run by the Customs & Immigration and if you qualify for it, you automatcially qualfiy for and are enrolled in Pre-Check, which is run by the TSA. But the reverse is not true. The requirements for Global Entry are a bit stricter than for Pre-Check. For Global Entry, if you have ANY type of cirminal conviction in the last 10 years, you will be denied. For me, I had a misdemeanor DUI in 2008, so I can't qualify for Global Entry. For Pre-Check, you can't have been convicted of a felony but they're allegedly not going to worry about lesser offenses. There's a good Fodor's article that explains the difgferences and why you might want one over the other. For instance, if you're enrolled in Pre-Check, you can take a non-Pre-Check companion in with you. In Global Entry, that's not the case. Here's the article:
http://www.fodors.com/news/global-entry-vs-tsa-precheck-which-one-is-right-for-you-10744.html
.
CATALINA MIGHT BE SINKING
- This is not an April Fool's joke. But the caveat is that the submersion may be 3 million years away. There was an interesting article in the
L.A. Times
about whether or not Catalina is tipping and possibly sinking. A grad student (working with a geologist I know) has been studying hi-res underwater topographic maps and looking for some telltale signs and clues and has come to the conclusion that the island may be tipping up on one end and down on the other which may eventually lead to it sinking. I found it to be an interesting read, especially because they talk about an escarpment on the NE corner of Catalina and back in 2005, we saw evidence of a fairly large underwater landslide in Arrow Cove (by where that sunken sailboat was) which, although small geologically and not really factoring in directly here, seems to relate to the overall theme of the geologic activity around Catalina and what it means for the future. Here's a link to the article if you're interested:
http://www.latimes.com/local/california/la-me-catalina-20150425-story.html
.
REPAIR REMINDER - If you've been dry for a while and it's time to get your gear serviced, remember that Reef Seekers can still do that for you. Our old repair facilities were moved into the garage (literally) of ace repair tech Robert Stark and he stands at the ready to service your gear. We've even got a separate number for you to contact Robert directly: 310/947-8523. We still offer quick turn-around, excellent service, and the only difference is that instead of bringing your stuff to Beverly Hills, it'll now go directly to Robert who's a stone's throw from LAX. Plus, when you are servicing your gear with us, you are automatically enrolled in our Repeat Offender Program which means that when you next bring your gear back, you'll save 33% on your repair. Quality service and low prices, all in one place. What more could you ask for? (And don't say "free".) But give Robert a call if it's time for you to get things back in shape for summer diving.
And that'll do it for now. In all seriousness, I really do hope you'll consider making a donation to the Chamber for Chamber Day. It's for a good cause and we really do need your help.
- Ken
—————————————————
Ken Kurtis
Owner, Reef Seekers Dive Co.


s© 2015 Reef Seekers Dive Co. All Rights Reserved.