• • • REEF SEEKERS REPAIR DEPARTMENT • • •
Contact our repair guru Robert Stark directly at 310/947-8523
or via e-mail at ReefSeekersRepair@gmail.com
(Ask Robert about our unique concierge "Repair Pickup & Delivery Service")

SAVE 33% ON YOUR REG, OCTO, OR BC REPAIR - CLICK HERE TO FIND OUT HOW
————————————————————————————————————————————————————————————————
Want to travel??? Upcoming 2016-2017 vacation trips:

• August 1-6 - Isla Guadalupe & Great White Sharks [ WE'RE BACK!!!! ]
• August 13-20 (WEEK 1) - Isla Mujeres & Whale Sharks, cenotes, and statues [ SOLD OUT!!! ]
• August 20-27 (WEEK 2) - Isla Mujeres & Whale Sharks, cenotes, and statues [ SOLD OUT!!! ]
• November 3-16 - Maldives on the Manthiri [ SOLD OUT - BUT THEN NOT - SEE BELOW - 1 SPOT LEFT ]
• 2017 - July 7-19 - Yap Immersion #1 (special 13-day trip featuring all that Yap has to offer) [ LIMITED TO 12 DIVERS - 5 SPOTS LEFT ]
• 2017 - July 21-August 2 - Yap Immersion #2 (week #2 - same sked as above) [ LIMITED TO 12 DIVERS - 9 SPOTS LEFT ]

GET MORE INFO ON ALL OF OUR VACATION TRIPS HERE: www.reefseekers.com/foreign_trips.html
————————————————————————————————————————————————————————————————
I've had "Mack the Knife" stuck in my head the last few days ("Oh the shark bites, with his teeth dear") . . .

BACK FROM GUADALUPE - The short version is: We had a FABULOUS time. Probably our best shark trip of the three we've done. The first dive day (last Wednesday) was simply incredible. I'm not sure how many different sharks there were (at least three) but everyone was getting up-close encounters. Betsy Sutttle & Marilyn Lawrence even had a 12-14 foot male Great White literally stick his nose in between the bars of the cage. (Sadly, I was in the upper half of the cage at the time and didn't see it.) But Todd Leibl got this great picture of the moment: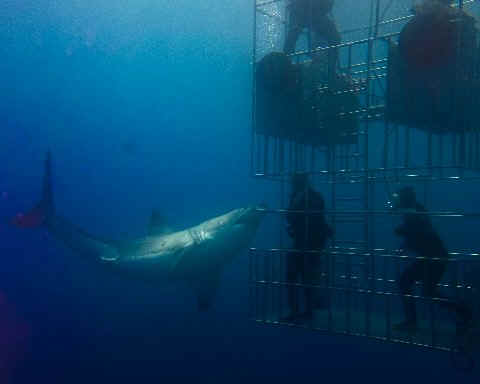 MORE FROM GUADALUPE - Although the first day was the highlight, the other two dive days were very good, just not as constantly action-packed. But there were plenty of close encounters, lots of in-your-face sharks, and plenty of cage time. The Nautilus Belle Amie prints up a sked every day so you know exactly when your scheduled submerged cage dives are, plus you can see where there are "open" spots to pick up even more time underwater. And then there are always the two surface cages with a total of eight regs, available on a first-come-first-serve basis. I personally did 18 dives overall, each one about 45 minutes long. I think the trip record went to Umberto from Portugal who was in every chance he got. If he could have slept in the cages he would have.

KUDOS TO THE BELLE AMIE CREW - We want to single out the Belle Amie crew under the command of Captain Bryden. They were always helpful, always friendly, always smiling, and always available. The trip was great from the shark encounters (plus we saw some turtles, sea lions, and dolphins, not to mention the ever-present Yellowtails and the occasional Yellowfin Tuna) but the crew made it that much better. And the food dished up in their galley by Chef Pebe was absolutely fantastic. Thankfully I didn't gain any weight but I think it was only because I was able to keep jumping back into the cages to work it off.

WANNA SEE SOME PICTURES???? - I will start working on the trip report and will hope to have that done before the end of the week (when I leave for Isla Mujeres with another group) but I've gone ahead and posted a bunch of shots, both above and below the waterline, on SmugMug. Here's the link: https://kenkurtis.smugmug.com/DIVE-TRIP-PHOTOS-ALL/2016-Dive-Trips/ISLA-GUADALUPE-2016/. And here's a small taste of what you'll see: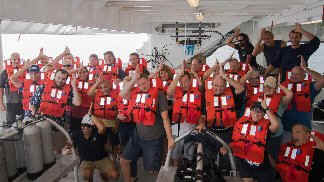 --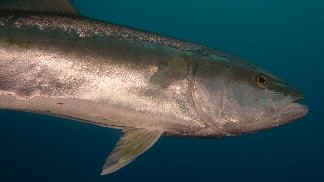 --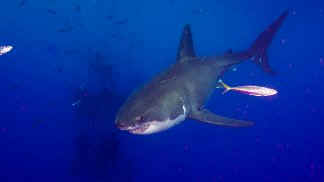 --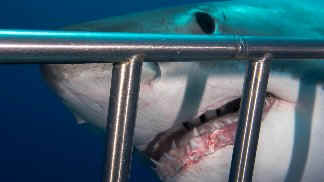 WAS I THE ONLY ONE . . . - Who liked Sharknado 4 ??? I watched it the night before we left and thought it was so bad but in a tongue-in-cheek way that it was simply fabulous. Not much scientific accuracy to it but then again, it wasn't supposed to be a documentary. Anyhow, if you haven't seen it, I'm sure it will repeat ion SyFy or you can find it through OnDemand. Mindless fun. Besides, any movie that can have a shark behead Carrot Top in the first five minutes can't be all bad.

FROM GWS TO WS - Later this week, I'll be switching focus from Great White Sharks (Guadalupe) to Whale Sharks (Isla Mujeres) as we leave Saturday for the first of our back-to-back weeks enjoying Whales Sharks, cenotes, the Cancun Underwater Museum, and more as we spend time on Isla Mujeres, which is about 10 miles offshore NE of Cancun. We were there in 2013 and 2014 and had a blast and we're looking forward to going back. We're also happy to report that Hurricane Earl, which hit Belize last week, had little effect on Isla Mujeres. They got some wind and had the harbor closed down but that was it. Things should be absolutely back to normal by then time we arrive Saturday afternoon. And on this Isla, we'll have a good Wi-Fi signal so be on the lookout for daily pix and posts about our activities on the Reef Seekers Facebook page.

MALDIVES - I was going to tell you that the trip has now sold out but no sooner had I put that notion in my head than the person who took the 11th spot (of our 12) had a schedule change and now can't go. So . . . we've got ONE spot available, this time for a female-share room. The plan is to fly into the Maldives on November 4, dive November 5-14, spend time in Istanbul on the way back (optional) November 15-18, and then return to L.A. the evening on the 18th. Trip cost is $4,895, airfare on Turkish Airlines is under $1,000, and Istanbul probably adds another $300-500. If you're interested, give me a call or shoot me an e-mail. It's gonna be a really great trip.

And that'll do it for now. Have a great week and let's go diving soon!!!

- Ken
—————————————————
Ken Kurtis
Owner, Reef Seekers Dive Co.


s© 2016 Reef Seekers Dive Co. All Rights Reserved.