• • • REEF SEEKERS REPAIR DEPARTMENT • • •
Contact our repair guru Robert Stark directly at 310/947-8523
or via e-mail at ReefSeekersRepair@gmail.com
(Ask Robert about our unique concierge "Repair Pickup & Delivery Service")

SAVE 33% ON YOUR REG, OCTO, OR BC REPAIR - CLICK HERE TO FIND OUT HOW
————————————————————————————————————————————————————————————————
Upcoming local dives & classes in 2013 (call us at 310/652-4990 to sign up for any of these activities):

• Wed., April 16 - Veterans Park - Night dive (7:30-10:30PM - $20)
• Thu., April 17 - Reef Seekers Westwood - Nitrox certification class (7:00-10:30PM - $150 - includes materials)
• Thu., April 24 - Aquarium of the Pacific - "Gentle Jaws: Diving with Whale Sharks" (7-8:30PM)
• Wed., May 7 - Chamber Day & Eve to benefit the Catalina Hyperbaric Chamber

SAVE $10 EACH TRIP AS A MEMBER OF OUR "FREQUENT DIVER" PROGRAM

PRINTABLE ––––> 2014 SKED FOR CLASSES, LOCAL BOATS, AND FOREIGN TRIPS

Need rental gear? Get a 20% discount at Hollywoodivers (near Universal City) or Scuba Haus (Santa Monica).
————————————————————————————————————————————————————————————————
Want to travel??? Upcoming 2014 vacation trips:
|
• May 17-24, 2014 - Bonaire (3 and counting . . .)
• July 5-20, 2014 - Indonesia (11 confirmed already - max 16 divers)
• August 16-23, 2014 - Return to Isla Mujeres for Whale Sharks (5 confirmed so far)
• Fall trip - still working on it

GET MORE INFO ON ALL OF OUR VACATION TRIPS HERE: www.reefseekers.com/foreign_trips.html
————————————————————————————————————————————————————————————————
It was a grand day to be out diving . . .

NICE DAY AT CATALINA SUNDAY - We were on the Hatttiude and one great thing about that boat (the same applies to Asante) is its speed. We left Ports 'O Call just before 7AM and we were at Ship Rock and in the water before 8:30. We were able to get in three dives, with an hour surface interval between each, and have lunch, and made it back to POC at 2:45PM. Nice day and not a bit rushed. (In fact, our last dive was close to an hour.) As I mentioned, we started at Ship where there was the biggest school of Blacksmith I've ever seen. There have been a lot in the past, but it's like their numbers have doubled. (Thank you, MPA, even though Ship lies just outside the MPA. It's known as "spillover".) Unfortunately, in addition to a lot of Blacksmith, there was a lot of Sargassum, too. This is an invasive seaweed that springs up every now and then and it's pretty thick down to about 65 feet. Below that, not so much. Viz at Ship was probably 40-60 and water temp was mid-50s. Then we moved over to Blue Cavern and drifted into the Wrigley Reserve. Really nice dive with slightly better viz, lobsters everywhere, and no Sargassum when we started, but it picked up a bit as we drifted down the wall towards Two Harbors. After a lunch break (really good hot chicken sandwiches with a veggie option for those who didn't want meat), we dropped in at Crane Point, again doing it as a live boat drift, in hopes of catching sight of the Scythe Butterfly. Yahoo!!! Success!! And there were hundreds of Kelp Rockfish and juvy Kelp Bass there as well (another presumed benefit of this site being within the MPA). Here's a sampling of what we saw. If you'd like to see the full 23-image slide show, click here: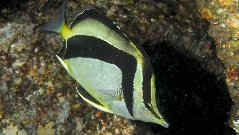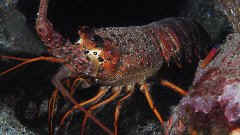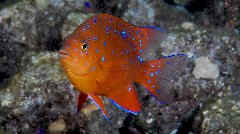 OTHER STUFF THIS WEEK
- Night dive at Vets Wednesday evening (conditions permitting) and a Nitrox class Thursday evening here at
Reef Seekers West(wood). Call 310/652-4990 to sign up for either one.
CHAMBER DAY/EVE IS FILLING UP
- We have one single spot left on our boat (
Cee Ray
) but we've still got plenty of room at our Ch-Eve table if you'd like to dine and help support the Catalina Hyperbaric Chamber. This event is the largest single-day scuba charity event in the US (and maybe the world) and the Reef Seekers customer base has always been at the forefront of providing support. So whether it's on the
Flying Dutchman
, joining us for Chamber Evening, or making a direct contribution through the Chamber Challenge, please get involved today at
www.chamberday.org
or by calling us directly at 310/652-4990 (since we're the co-ordinating store).
NEW CHAMBER DAY SWAG SNEAK PEEK
- We'll officially announce this later this week but thought you'd like an advance look at our new Chamber Day swag. It's a set of three refrigerator magnets in a presentation case and it'll run you a whopping $10. They're actually pretty nice with the square ones being 2x2" and the third about 2¼" round. One is our Chamber day 2014 40th anniversary logo, one is our iconic Chamber tile logo (which we've been using since 2005), and the round one is a special Chamber "since 1974" commemorative magnet. You'll be able to order these on the website or directly through me. We "only" ordered 250 and once they're gone, they're gone, so don't get left out. Here's what they actually look like: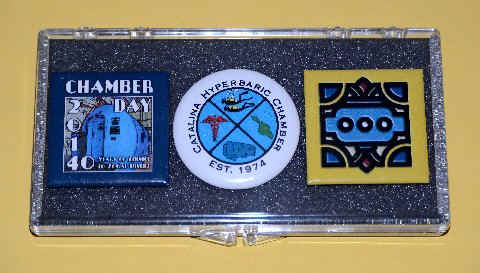 BAD DAY FOR SEA WORLD
- In the on-going battle of what to do with Sea World and their Orcas, Sea World lost a legal battle the other day when an appeals court ruled that OSHA has the authority to impose workplace restrictions on Sea World that prohibit their trainers from being in the water with the animals. Read more about this, and a brief on legislation that would prohibit public performances by Orcas, here:
http://www.latimes.com/local/lanow/la-me-ln-court-orcas20140411,0,1852297.story#axzz2yplW6Ked
.
OARFISH SPOTTED
- As you may know, Oarfish are a mysterious creature that lives in the very deep sea, well out of the range of humans. And when one is spotted in the shallows, while it's exciting for us, it's bad news for the Oarfish because it's probably coming in to die. There's an amazing video shot in Baja recently or just such an occurrence. Bad new for this specific Oarfish, but amazing to see nonetheless:
https://www.youtube.com/watch?v=_xWaQ5E07yk
.
LOOK WHO'S HAVING FUN
- We've probably all seen dolphins body-surfing, and sea lions doing the same thing, but how about Humpback Whales? It happened in Hawaii at The Pipeline and someone got a picture of it (not a late April Fools joke):
http://www.grindtv.com/outdoor/nature/post/humpback-whales-go-for-a-surf-at-pipeline/
.
And that's it for now. Have a great week and let's go diving soon!!!
- Ken
—————————————————
Ken Kurtis
Owner, Reef Seekers Dive Co.


s© 2014 Reef Seekers Dive Co. All Rights Reserved.