Alphabetically: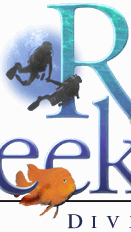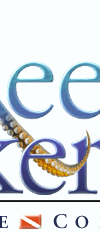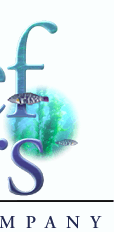 P.O. Box 11634 • Beverly Hills, CA 90213

(310) 652-4990
——————————————————————————————————————————————————————

Follow us on Facebook by clicking this link and then choosing "LIKE": www.facebook.com/reefseekers

——————————————————————————————————————————————————————
Not on our e-mailing list??? Wanna get on it? You'll get the weekly "This Week at Reef Seekers"
and the monthly Reef Seekers 4-page newsletter. Just click this link and put "Add me" in the subject line:
Add me to the e-mail list
——————————————————————————————————————————————————————
THIS WEEK (Sept. 29 - Oct. 6) AT REEF SEEKERS DIVE CO.
(Please scroll down a bit for all the info, text, pictures, & links.)
NEW!!! ---> ISLA MUJERES 2014 TRIP REPORT
ISLA MUJERES 2014 PICTURES, VIDEOS, & SLIDESHOW

2014-15 FOREIGN TRIP SCHEDULE
CLICK HERE TO READ OUR MONTHLY NEWSLETTERS

CLICK HERE TO VISIT OUR PICTURE PAGE CLICK HERE TO READ OUR FOREIGN TRIP REPORTS

DIRECTIONS TO BOATS and VETERANS PARK (REDONDO)
• • • REEF SEEKERS REPAIR DEPARTMENT • • •
Contact our repair guru Robert Stark directly at 310/947-8523
or via e-mail at ReefSeekersRepair@gmail.com
(Ask Robert about our unique concierge "Repair Pickup & Delivery Service")

SAVE 33% ON YOUR REG, OCTO, OR BC REPAIR - CLICK HERE TO FIND OUT HOW
————————————————————————————————————————————————————————————————
Upcoming local dives & classes in 2014 (call us at 310/652-4990 to sign up for any of these activities):

• Thu., October 2 - CLASS - Photo Workshop (at Reef Seekers West - $25)
• Sat., October 11 - Catalina Express - Avalon Underwater Park (usually 3 dives - includes boat, taxi, tanks & air - $150)
• Sun., October 19 - Asante - Farnsworth Banks (wide open - $170)
• Wed., October 22 - Veterans Park - Night Dive (single tank - $20)
• Thu., October 30 - CLASS - Fish ID (at Reef Seekers West - $25)

FULL 2014 SKED (TRIPS & CLASSES): http://www.reefseekers.com/FLYERS/2014%20RSD%20Boat%20&%20local%20sked%20(chronological).pdf

SAVE $10 EACH TRIP AS A MEMBER OF OUR "FREQUENT DIVER" PROGRAM
Need rental gear? Get a 20% discount at Hollywoodivers (near Universal City) or Scuba Haus (Santa Monica).
————————————————————————————————————————————————————————————————
Want to travel??? Upcoming 2014-15 vacation trips:

• November 1-8 - Belize Sun Dancer (11 confirmed - room for 1 more female)
• March 6-15, 2015 - Yap (Manta Rays, Mandarinfish, sharks & more) with our good friends at Manta Ray Bay Resort
(9 confirmed - can be combined with Palau)
• March 13-22, 2015 - Palau (Blue Corner, Peleliu, drift & reef diving at its best) aboard the Palau Aggressor II
(10 confirmed - max is 12 - can be combined with Yap)

GET MORE INFO ON ALL OF OUR VACATION TRIPS HERE: www.reefseekers.com/foreign_trips.html
————————————————————————————————————————————————————————————————
Lobsters are in a panic . . .

LOBSTER SEASON OPENED THIS WEEKEND - That's why they're in a panic. Somehow they've got this internal clock that knows when it's 12:01AM on the Saturday preceding the first Wednesday in October. And that was this past weekend. So now lobster season is open until around mid-March. If you're going out on your own, make sure you're aware of which areas have recently been designated Marine Protected Areas because some places where you could take lobsters a few years ago are now off-limits. And obviously, remember to take a gauge with you since you are required to measure them underwater immediately. You're not allowed to bring them back to a boat or shore prior to having verified that they're of legal size. And remember to have your lobster report card with you. Those are now adjusted to be lobster-seasonal instead of calendar-yearly, so that should make things easier. Above all, dive safely.

ONE FATALITY THIS WEEKEND - I don't have any info other than that a diver died off of Santa Cruz Saturday afternoon. The presumption is that this was lobster-hunting-related since it was part of a 3-day trip. But regardless, it underscores that this is a hostile environment in which we dive and when something goes wrong, for whatever reason, we as divers need to be prepared to act quickly and decisively. And while no details other than what I mentioned are available yet, I will point out that in a study I did a few years ago on DAN stats, 69% of the time fatalities were triggered by things that could be termed diver error. And 25% of the time it was medical. (Our stats for L.A. County indicate the medical component could be as high as 40%.) So in general terms, you really want to be careful out there. Dive carefully, have a buddy, watch your air especially, and pay attention to your dive, not just the lobsters. By the same token, make sure you get regular (every year or so) annual checkups for diving that include things like an EKG and lung-function tests. Much better to know you have a problem and deal with it than to hide your head in the sand hoping there's nothing wrong.

PICTURE PERFECT ON THURSDAY - Well, maybe not "perfect" but if you'd like to do a better job with your photos, give some thought to signing up for our Photo Workshop this Thursday at Reef Seekers West (aka my place in Westwood). This is a 3-hour-ish class where we go over not only the general basics of shooting underwater but also go into some of the finer points as well as invite you to bring your photos and camera gear in so we can look at what you've been shooting, maybe see where there are areas for improvement and show you how to do just that. For instance, one thing I notice a lot is that if people are not comfortable shooting, they frequently (especially with the point-and-shoots - some of which are VERY good) will leave their camera set for AUTO or A and just let the camera do all the work. But the problem with that is that it also limits what the camera's going to do which can make a huge difference underwater because many of the cameras try to shoot at the widest possible aperture. A better choice is to put it on PROGRAM or P and have some control and even better, get comfortable shooting in aperture-priority or shutter-priority mode or better still, experiment with full manual. These are some of the things we can point you towards in this workshop. It's fun, free-wheeling, and is tailored to the interests and needs of those in attendance. If you're interested, sign up by calling 310/652-4990.

FARNSWORTH IN THREE WEEKS - We starting to get nibbles on our October 19 trip out to Farnsworth on the backside of Catalina. One thing to note, tying in to the lobster thoughts above, is that Farnsworth is an MPA so lobster-hunting is NOT allowed there. The plan would be for two dives at Farnsworth, lunch, and then a third site somewhere else. The Asante is really fast so we're looking forward to a quick trip out and back, maybe just a shade over two hours. (I've been on boats where it took 4 hours to get out there.) And October's usually a good time of the year to go, as the weather's favorable. Call us at 310/652-4990 to sign up.
MOVE QUICKER THROUGH IMMIGRATION & CVUSTOMS
- I was heartened by an article in last week's
L.A. Times
that talked about the installation of new kiosks in the Bradley Terminal at LAX that are designed to speed up the Immigration and Customs process. What was unclear was whether this are just for people already registered in the Global Entry program, or if these are available to anyone. From way the way the story was written, it seems like the latter. Hopefully that's so because they're talking of reducing your time through I&C by about 40% which would be quite welcome. If anyone's come in through LAX since these were installed, let me know and we'll share your experience with everyone. Here's the story from the
Times
for your perusal:
http://www.latimes.com/local/la-me-passport-readers-20140925-story.html
.
BUCK GOT HITCHED
- We end this edition of TWARS on a very happy note as we were delighted to be part of roughly 150 friends and family who attended today's wedding of longtime Reef Seekers instructor and Barnacle Busters founder RA Buck to his partner Chris Freeman. The service was officiated by Buck's brother Craig and although Buck and Chris has done this two weeks earlier at Leo Carillo, it seems they forgot to sign the marriage license (typical Buck, right???) so today actually became the "official" day. And yes, we all reminded and harangued them to sign the license this time. But it was a really lovely affair, well-attended, a perfect day weather-wise, full of love and joy all the way around and Laurie Kasper put a perfect cap to it all when she said, "Anyone who doesn't support gay marriage should have been here today because with the vows and the overall tone of inclusiveness, this is the way marriage ought to be done." Amen. Here's a picture (courtesy of Judy Ornelas Cisneros' Facebook page) of the happy couple cutting their scuba-themed cake: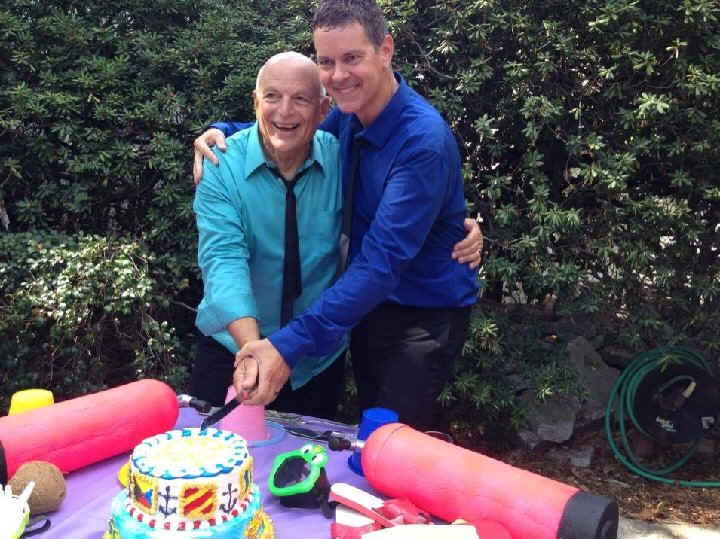 And that's it for now. Have a great week and let's go diving soon!!!
- Ken
—————————————————
Ken Kurtis
Owner, Reef Seekers Dive Co.


s© 2014 Reef Seekers Dive Co. All Rights Reserved.