• • • REEF SEEKERS REPAIR DEPARTMENT • • •
Contact our repair guru Robert Stark directly at 310/947-8523
or via e-mail at ReefSeekersRepair@gmail.com
(Ask Robert about our unique concierge "Repair Pickup & Delivery Service")

SAVE 33% ON YOUR REG, OCTO, OR BC REPAIR - CLICK HERE TO FIND OUT HOW
————————————————————————————————————————————————————————————————

Upcoming local dives & classes in 2013 (call us at 310/652-4990 to sign up for any of these activities):

• Wed., Dec. 11 - CLASS - Navigation (dry - Reef Seekers Westwood - 7:30-9PM)
• Sun., Dec. 15 - Hattitude (NOTE BOAT CHANGE - ALSO LEAVES FROM PORTS 'O CALL)
to the Oil Rigs (TRIP IS FULL - taking a waiting list - 7AM-4PM)
• Wed., Dec. 18 - Veterans Park, Redondo - SQUID DIVE (FREE!!! - 7:30PM)
• 2014 SCHEDULE FOR CLASSES, LOCAL BOATS, AND FOREIGN TRIPS IS IN THE WORKS

Need rental gear? Get a 20% discount at Hollywoodivers (near Universal City) or Scuba Haus (Santa Monica).
————————————————————————————————————————————————————————————————
Want to travel??? Upcoming 2014 vacation trips:

• February 9-15, 2014 - Florida (Manatees, river drift diving, caverns)
• March 14-23, 2014 - Yap & the Magnificent Manta Rays (taking deposits)
• May 2014 - Bonaire (towards the end of the month - specific dates TBA)
• July 5-20, 2014 - Indonesia (10 confirmed already - will cap this around 12 divers)
• August 2014 - Return to Isla Mujeres (specific dates TBA)
• Fall trip TBA on all counts

GET MORE INFO ON ALL OF OUR VACATION TRIPS HERE: www.reefseekers.com/foreign_trips.html
———————————————————————————————————————————————————————————————— Oh the weather outside is frightful . . .

COLD ENOUGH FOR YOU? - It was rather nippy this weekend, especially Saturday night into Sunday morning. Brrrrrrr. The good news is that it should be warming up a few degrees each day and by next weekend is supposed to be back up into the mid-to-high 60s. But the cold weather certainly didn't stop people from diving. I was checking the Avalon HD cam that shows the Park over the weekend. Looks like the Pacific Star was parked over the Valiant Saturday morning. However on Sunday morning, it looked like there were - literally - only five or six people diving at the Park. You know it's chilly outside when you want to get into the water to warm up. But we need to count our blessings and keep things in perspective. I happened to turn on the Eagles-Lions game in Philly (just north of my hometown of Dover, DE) and was stunned to see a foot of snow on the field. So be thankful that all we suffer through are some chilly nights and don't have to function in this stuff (although it was amusing to see the plays unfold):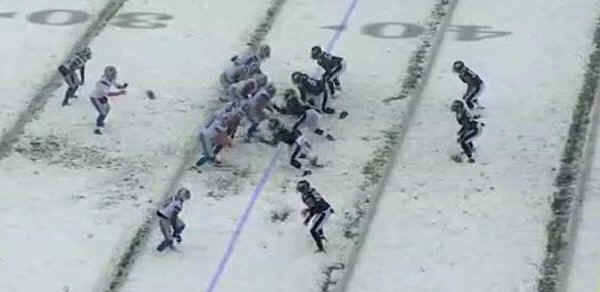 FLORIDA IN FEBRUARY - As I've started laying out the trips for 2014, I've gone ahead and added Florida back to the sked for a possible 2014 trip. That's one that's always fun to do. Snorkeling with the manatees is simply a hoot, and we spend two days doing it. Plus there's drifting the Rainbow River (close to 3 hours for a 2-mile drift), Ginnie Springs, and the caverns of Orange Grove Sink and Troy Springs (not to mention lunch and the best fried chicken anywhere at Sisters Cafe). And if you've ever wondered what's it's like to be hugged by a manatee, check out this clip from CNN: http://www.cnn.com/video/data/2.0/video/us/2013/12/03/newday-vo-manatee-hug.cnn.html .

OIL RIGS THIS COMING SUNDAY - We'll be heading out to the Oil Rigs this coming Sunday. Note the boat has been changed from Asante to Hatttiude because Asante is going to be getting new engines and they've prepping the boat for that. This also means we're limited to 6 divers since Hattitude is licensed as a 6-pack. So if you're interested let me know and I'll put you on the waiting list. And you never know because there are always last-minute changes so it's very possible that we'll be able to get you on. Call us at 310/652-4990 to add your name.

WORKING ON 2014 - I'm developing the entire 2014 Reef Seekers schedule for classes, local trips, and foreign vacations. Classes will consist of the same general mix of Fish ID, Navigation, and Photo. Local trips will include boat, beach, and Avalon. And we've talked about the foreign trips ad nauseam. If you have any requests/suggestions for any of these, now's the time to let me know.

REPEAT OFFENDER REPAIR PROGRAM - Just a quick reminder as well about our new Repeat Offender repair program. In it's simplest form, you'll save 33& when you let us continue to service your gear (regs & BCs). Anyone who's serviced their gear with us in the previous 18 months (since July 1, 2012) is automatically eligible. If you have any questions call repair guru Robert Stark directly at 310/947-8523.

ANYONE NEED SOME WEEDY??? - Weedy Sea Dragons, that is. We've just installed a new live camera in the AOP Weedy Sea Dragon exhibit and it gives you a fairly good look at this little guys, especially when they're right in front of the camera: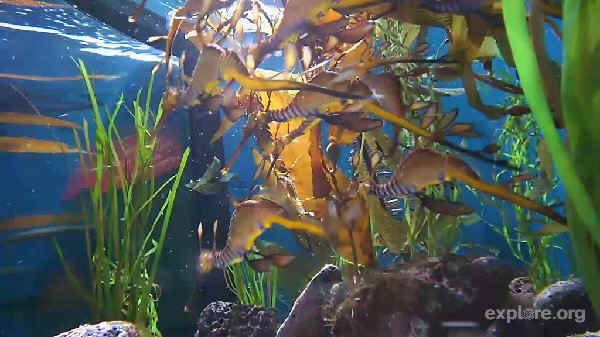 You can watch at your leisure thorough this link: http://www.aquariumofpacific.org/exhibits/tropical_pacific_gallery/webcam_weedy_sea_dragons .

MAKING YOUR VERY OWN KRACKEN - With thanks to Barb Ferrante . . . I don't know what the chemical is, but this short video is pretty cool. It sounds like the kids in there BG are chortling in Russian, but they clearly start calling the emerging shape "Kracken". I'm pretty sure you'll get a kick out of this: http://vitaminl.tv/video/543?ref=rcm .