Alphabetically: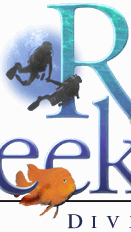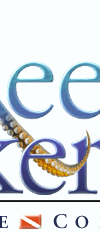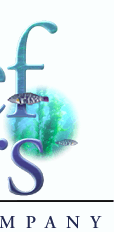 *** PLEASE NOTE THAT OUR PO BOX NUMBER HAS CHANGED - IT WAS 11634 ***

P.O. Box 634 • Beverly Hills, CA 90213

(310) 652-4990
———————————————————————————————————————————————

Follow us on Facebook by clicking this link and then choosing "LIKE":
www.facebook.com/reefseekers

———————————————————————————————————————————————
Can we keep you up-to-date on the latest news and activities?
Join our e-mailing list. Get the weekly "This Week at Reef Seekers" (TWARS)
and the monthly Reef Seekers Dive Co. four-page newsletter.
Click this link and put "Add me" in the subject line: Add me to the e-mail list
———————————————————————————————————————————————
THIS WEEK (Nov. 29 - Dec. 13) AT REEF SEEKERS DIVE CO.
(Please scroll down a bit for all the info, text, pictures, & links.)
NEW --> GUADALUPE #2 (OCT.) TRIP REPORT GUADALUPE #2 PIX, SLIDESHOW, & VIDEO

GUADALUPE #1 2015 TRIP REPORT GUADALUPE #1 2015 VIDEO, PIX, & SLIDESHOW

2015-2016 FOREIGN TRIP SCHEDULE
CLICK HERE TO READ OUR MONTHLY NEWSLETTERS

CLICK HERE TO VISIT OUR PICTURE PAGE CLICK HERE TO READ OUR FOREIGN TRIP REPORTS

DIRECTIONS TO BOATS and VETERANS PARK (REDONDO)
• • • REEF SEEKERS REPAIR DEPARTMENT • • •
Contact our repair guru Robert Stark directly at 310/947-8523
or via e-mail at ReefSeekersRepair@gmail.com
(Ask Robert about our unique concierge "Repair Pickup & Delivery Service")

SAVE 33% ON YOUR REG, OCTO, OR BC REPAIR - CLICK HERE TO FIND OUT HOW
————————————————————————————————————————————————————————————————
Upcoming local dives (call 310/652-4990 for more info and to register):

• MORE TO COME IN 2016 BUT SO FAR . . .
• Saturday, February 20 - 35th Annual Avalon Underwater Cleanup • Wednesday, May 4 - Chamber Day & Eve 2016
————————————————————————————————————————————————————————————————
Want to travel??? Upcoming 2015-2016 vacation trips:

• December 1-13 - Red Sea Aggressor (southern route - includes snorkeling with dolphins) plus 2 days in Cairo [ LEAVING TUESDAY ]
• March 11-19 - Yap (can be combined with Palau)
• March 20-27 - Palau on the Palau Aggressor II [ can be combined with Yap - WE ONLY HAVE 1 SPOT LEFT ]
• Late May or early June - Bonaire or Cayman
• July 2-14 - Indonesia
• August 1-6 - Isla Guadalupe & Great White Sharks [ ONLY 6 SPOTS AVAILABLE ]
• August 20-27 - Isla Mujeres & Whale Sharks, cenotes, and statues
• November 3-16 - Maldives on the Manthiri [ 4 SPOTS CONFIRMED - ONLY 8 STILL AVAILABLE ]

GET MORE INFO ON ALL OF OUR VACATION TRIPS HERE: www.reefseekers.com/foreign_trips.html
————————————————————————————————————————————————————————————————
PLEASE NOTE WE'RE IN EGYPT DECEMBER 1-13 AND WON'T BE ABLE TO UPDATE THIS WEBSITE UNTIL WE RETURN TO L.A.

Many unusual creatures being spotted and I don't mean at the malls . . .

THE RED SEA BECKONS - Now that we've made it through Thanksgiving, we're in the final stages of getting ready for our Red Sea trip, with most of the group departing Tuesday, flying through Frankfurt and then into Cairo. Despite the ruckus in Paris and the Middle East, we're looking forward to this trip as we start with two days in Cairo, touring the ancient hotspots as well as the newly-reopened National Museum which houses King Tut's goodies. Then we journey about 400 miles south to Port Ghalib, which is where we'll pick up the Red Sea Aggressor. We'll definitely have Wi-Fi in Cairo and will have it at least while we're in port in Port Ghalib, so we'll try to post some photos of our Cairo adventures on our Facebook and SmugMug pages. So stay tuned and enjoy the trip with us vicariously.

GOOD NEWS FROM THE DISCOVERY CHANNEL - One of the raps against Discovery lately has been that they've gotten away from their original mission of exploring the world with a sense of wonder and have taken to running shows that were basically tabloid television and not at all based in reality. (Such things as Megladon still being around and shows claiming Bigfoot is real and living among us.) But they've just hired a guy named John Hofffman as their new head of documentaries and he says the first thing he's going to do is right the ship. His first move was to acquire a documentary called "Racing Extinction" (from the same guy who did "The Cove") which deals with mass extinction and climate change and premieres on Discovery on December 2. Since Hoffman also will oversee Animal Planet and Science Channel, this hopefully marks the dawn of a new day at Discovery. You can read more about Hoffman and "Racing Extinction" here: http://www.motherjones.com/media/2015/11/racing-extinction-climate-change-discovery-john-hoffman.

STILL HAVE ONE SPOT FOR PALAU - It's a magical place to dive and we've got one single spot (male share) left on our Palau trip in March. And what you really want to do is combine it with Yap on the way in as we start the adventure with Manta Rays, Mandarinfish, and Sharks. Then it's off to Palau for magnificent walls, exciting drift dive, alluring tunnels and caverns, and even World War II wrecks. It's really a fabulous way to spend two weeks, leaving L.A. on March 11 and returning on March 27. Give us a call (310/652-4990) or send an e-mail for specific details and to secure your spot.

WANNA SEE A SEAHORSE? GO TO PALOS VERDES - You read that correctly. There were not one but TWO seahorse sightings over the weekend. One was at Vets Park in Redondo and the other was at Haggerty's, which is just south of Malaga Cove. Although the two spots are a little less than three miles apart, I doubt it was the same creature. Ian Uhalt found the one at Haggerty's and got this picture: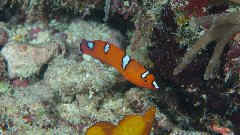 TURTLES TOO - Not that everyone's trying to one-up each other, but I got a note from Sharon Wallin today telling me that she and Nixie were diving at Blue Cavern Sunday and spotted a turtle (which had also been seen there the day before). From the picture Sharon sent me, I'm thinking it's a Green Turtle based on the shape of the head and the shape and location of the plates on the shell. Take a look: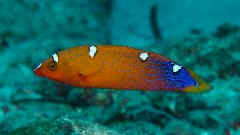 HOW ABOUT SOME RIGHT WHALES? - Then there's these two lucky blokes down in Australia who happened to be paddleboarding and caught the fancy of two Right Whales. Not sure who was accompanying whom but something tells me that the fact this was shot with a drone indicates there might have been some pre-planning that went into this. Still pretty cool: https://www.youtube.com/watch?v=g6U3VCneKfs .

HOW ABOUT SOME FEEDING BLUE WHALES? - It's always amazed me that the largest animal ever to have lived on the earth, the Blue Whale, feeds on some of the smallest animals to have lived on earth, krill. And apparently, no one's ever been able to get a shot of these guys feeding underwater . . . until now. As part of a BBC series called "The Hunt" (already aired - you might find it On Demand), a camera crew off of San Diego was able to capture footage of Blues feeding underwater. Pretty spectacular too. Here's an article that tells about it: http://www.iflscience.com/plants-and-animals/rare-footage-blue-whales-feeding-captured.

TWARS NEXT WEEK - Since I may not have Wi-Fi Sunday night on the boat (since we'll be out to sea at that point), look for something perhaps Saturday afternoon post-Cairo, and then again maybe something Friday morning 12/11 once we're back in port. So that'll do it for now. Have a great week and let's go diving soon!!!

- Ken
—————————————————
Ken Kurtis
Owner, Reef Seekers Dive Co.


s© 2015 Reef Seekers Dive Co. All Rights Reserved.